Where To Play In The Snow In Polk County (& Florida)
by James Coulter
While the colder weather up north may let it snow, let it snow, let it snow, the warm weather down here leaves Floridians merely dreaming of a White Christmas. However, even though Florida may never truly be a Winter Wonderland, there are some places where it's gonna snow down here in Dixie—and you don't even need to reconcile the feud between Heat and Snow Miser! All you need to do is attend one of several events occurring this December throughout Polk County and several other places in Florida. Here are just a few upcoming events where you can play in the snow:
Now Snowing in Celebration
When: Nov. 24 –  Dec. 31 @ 5 p.m. – 9 p.m.
Where: Town Center @ Celebration, FL
Info: http://www.celebration.fl.us/events/now-snowing-november-24-december-31/
Only in the town of Celebration can you go walking in a winter wonderland every evening during the holiday season. From Thanksgiving to New Years Eve, the town center experiences a nightly snowfall, which is perfect for much mistletoeing and hearts that are glowing when loved ones are near. Guests can also go skating on a synthetic ice rink, ride a holiday train, and listen to talented Christmas carolers.
Winter Wonderland at Bartow Ford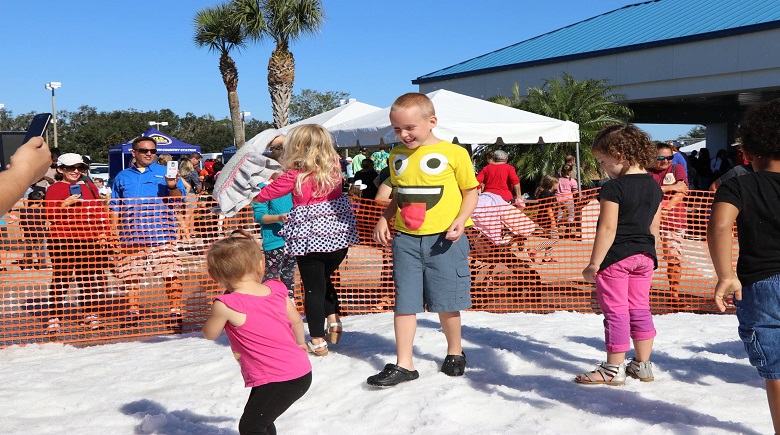 Where: Bartow Ford @ 2800 US-98, Bartow, FL 33830
When: Sat., Dec. 1, 2018 @ 9 a.m. – 2 p.m.
Info: https://www.bartowford.com/en/news/view/winter-wonderland-with-bartow-ford/51621
For the fourth year in a row, Bartow's local Ford dealer will allow children of all ages to frolic and play the Eskimo way in a winter wonderland, featuring 60 tons of real snow. Children can sled down snow slides or play within the snow play area, while adults have a chance to win a new car through the annual F150 Holiday Extravaganza truck giveaway. Best of all? It's all free family fun!
Glitter, Glisten & Snow
Where: Lake Eva Community Park @ 555 Ledwith Ave., Haines City, FL 33844
When: Sat., Dec. 1, 2018 @ 6 p.m. – 9 p.m.
Info: https://hainescity.com/357/Glitter-Glisten-and-Snow
The children of Haines City better not shout, better not cry, and they better not pout. Why? Because Santa Claus is coming to town! Not only will he be lighting up the 31-foot Christmas tree at Lake Eva Park, but he's bringing with him plenty of white snow to play and sled in. Of course, what snowy evening is complete without hot chocolate, sugar cookies, and chestnuts roasting on an open fire?
Davenport Winterfest
Where: Wilson Park @ 5 State Street, Davenport, FL 33836
When: Sat., Dec. 8, 2018 @ 6 p.m. – 9 p.m.
The City of Davenport kicks off the Christmas season every year with an annual nighttime holiday parade that concludes with Winterfest at Wilson Park, which will feature plenty of vendors, arts and crafts, cookie decorating, visits from Mr. and Mrs. Claus, and of course, plenty of snow from a snow machine. There's no other place to go, so let it snow, let it snow, let it snow!
Downtown Lakeland Snowfest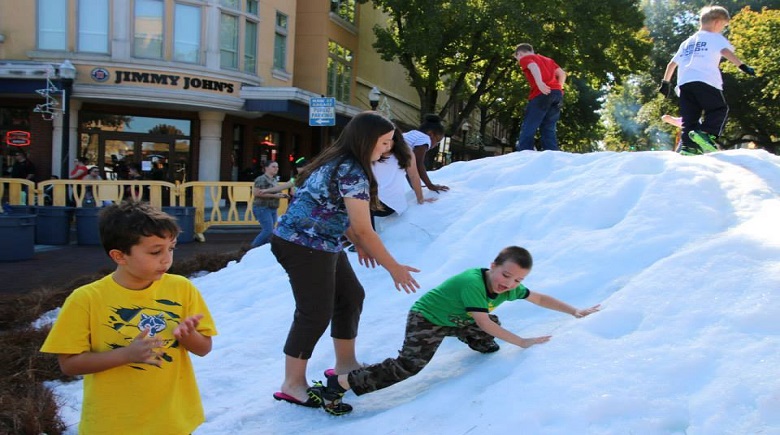 Where: Munn Park @ 210 E Main St, Lakeland, FL 33801
When: Sat., Dec. 8, 2018 @ 10 a.m. – 2 p.m.
Info: https://www.mydavenport.org/index.asp?SEC=F8985BCF-71DD-4F29-9F5C-51DBFC361005&DE=60B3D433-11BC-4511-91B4-2F4F855126A1
It's beginning to look a lot like Christmas everywhere you go in Downtown Lakeland, and that will certainly be the case during the 38th annual Snowfest. True to its name, there will be plenty of snow, especially with the towering Snow Mountain where children can slide down and play in. Afterward, be sure to enjoy the artesian craft fair, inflatables, and other activities.
Snow on 7th Parade
Where: 7th Ave @ Ybor City, Tampa, FL
When: Sat., Dec. 8, 2018 at 6 p.m. – 9 p.m.
Info: https://yborcityonline.com/events/ybor-city-snow-on-7th-holiday-parade/
Ybor City in Tampa may be known for its Cuban sandwiches and Cuban cigars, but for the past eight years, it's also been known for snow during its annual Christmas parade and event, as provided by Ybor Collaborative. Watch as snow falls from the rooftops as marching bands and local krews pass by in a holly, jolly celebration.
ICE! featuring A Christmas Story
Where: Gaylord Palms @ 6000 W Osceola Pkwy, Kissimmee, FL 34746
When: November 16, 2018 – January 6, 2019
Info: https://www.marriott.com/hotel-info/mcogp-gaylord-palms-resort-and-convention-center/gaylord-christmas/csyr9pd/ice.mi
Floridians rarely need to bundle up in layers of warm clothes, but those visiting Gaylord Palms are advised to do just that if they decide to participate within the annual Ice! indoor event. This year has several life-sized ice sculptures and hand-carved scenes based on the holiday classic, "A Christmas Story", along with five two-story ice slides. Afterward, guests can go tubing down giant snow slides, enjoy hot chocolate, or visit Mr. and Mrs. Claus.
Winter Haven Snow Central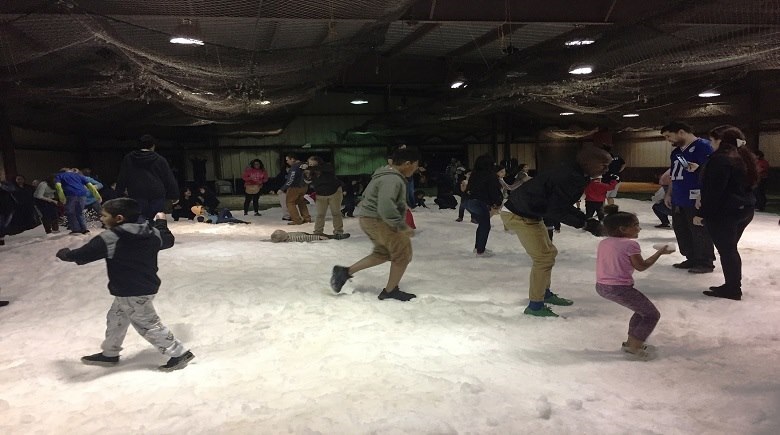 Where: Chain of Lakes Park @ 210 Cypress Gardens Blvd., Winter Haven, FL 33880
When: Fri., Dec. 14 @ 6 p.m. – 9 p.m.
Info: https://www.mywinterhaven.com/event/snow-central-18/
Once every December, the City of Winter Haven lives up to its name with more than 70 tons of real snow for children to play in with snowball fights and snowmen building, as well as snow sledding on snow slides. When not frolicking in the snow, guests can also bounce about in bounce houses, decorate their own holiday cookies, and take photo opportunities with Santa Claus himself.