Frostproof Sets Sail With Inaugural Cardboard Boat Race
by James Coulter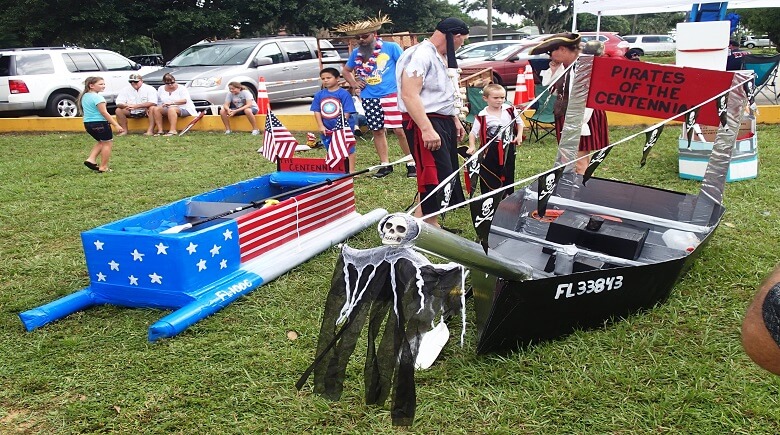 Eighteen colorful cardboard boats cast off into Lake Clinch for the inaugural Frostproof Cardboard Boat Race on Monday.
Inspired by the Haines City Cardboard Boat Challenge, this race was hosted by Frostproof to help celebrate its 100th anniversary during its three-day Centennial Celebration.
The 18 colorful boats were constructed by 18 individual teams using duct tape and cardboard donated by Ferguson.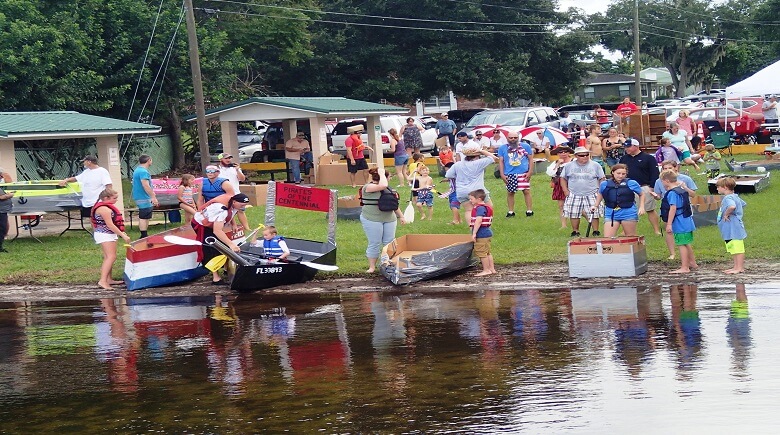 Each boat had the opportunity to cast off into the waters of Lake Clinch during one of four matches. Each boat was judged by how quickly they could row out into the lake and back to shore.
The boats created that day ranged from small gray canoes to bright pink motorboats to Spanish pirate ship galleons.
Melody Sauerhefer, a city employee, and her team dressed up as pirates and constructed their boat into a pirate ship, calling themselves the "Pirates of the Centennial", and naming their ship "Foorptsorf" (which is "Frostproof spelled backwards).
Though their ship looked grand with a skull-and-crossbones sail, their boat barely made it into the water before sinking into Davy Jones' Locker.
Nevertheless, the entire experience was enjoyable, and they hope to something similar next year, Sauerhefer said.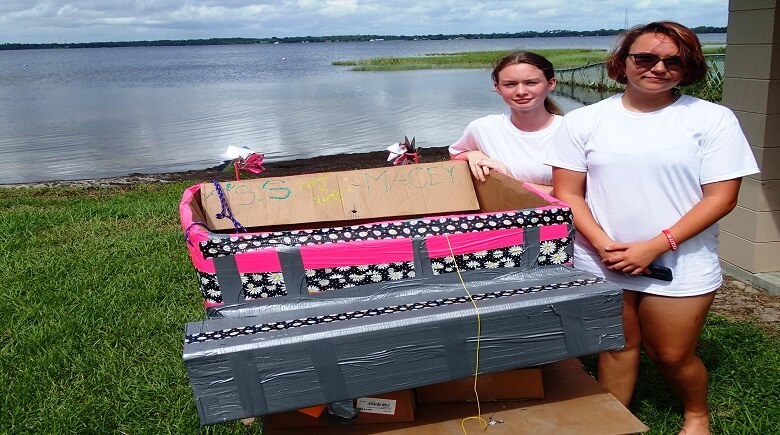 "It was a blast having everybody here," she said. "It took a long time and a lot of duct tape. It was great, we would do it again."
Winning first place that morning was Justin Keene and his team, who won $200 for the fastest overall race time.
The secret to their success? Plenty of duct tape and elbow grease, of course, especially since their elbows received quite the workout.
"It was fun, he said. "My arms are burning and hurting a little bit, but it was a whole lot of fun."
Also hosted that day was a raffle for a "Day At The Lake", with a Yeti cooler filled with recreational items such as a folding chair, tent, inflatables, and sunscreen.
The Frostproof Volunteer Fire Department donated the grand prize, and also served hot dogs and other snacks.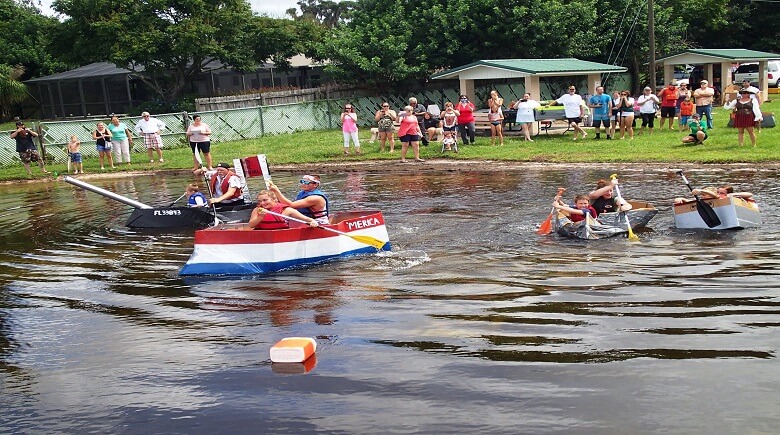 Overall, the festivities that morning went well and managed to conclude right before the sky grew dark with storm clouds and began to rain.
Kelly Banks, Executive Director of Frostproof Main Street, loved the sense of community throughout the race, and hopes to host it again next year.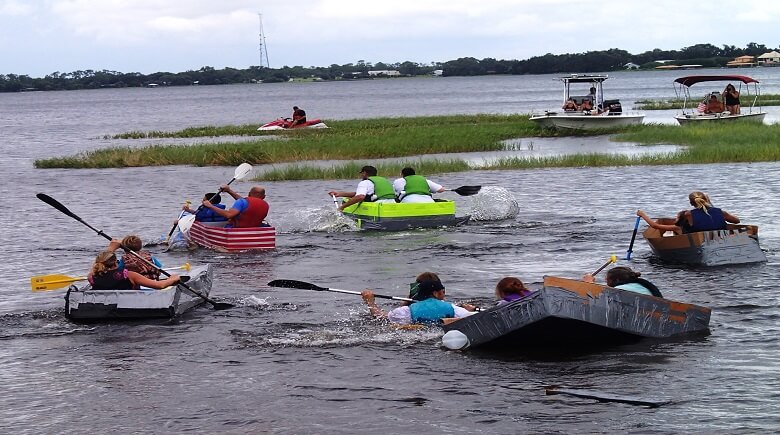 "The turnout was absolutely wonderful," she said. "We will be definitely doing it again."
The winners of the cardboard boat race are as follows:
1st Place: Brana Keene & Justin Keene (Time: 4:00:39)
2nd Place: Greg Cope & Amy Juarez (Time: 4:01:04)
3rd Place: Timothy Burnette Jr & Josiah Burnette (Time: 4:19:48)
Spirit Award: Corrine Poe & Tyler Brown
Titanic Award: Amanda Blocker & Eden Bell