Anytime Fitness in Winter Haven Hosts its Monthly Open House
By Allison Williams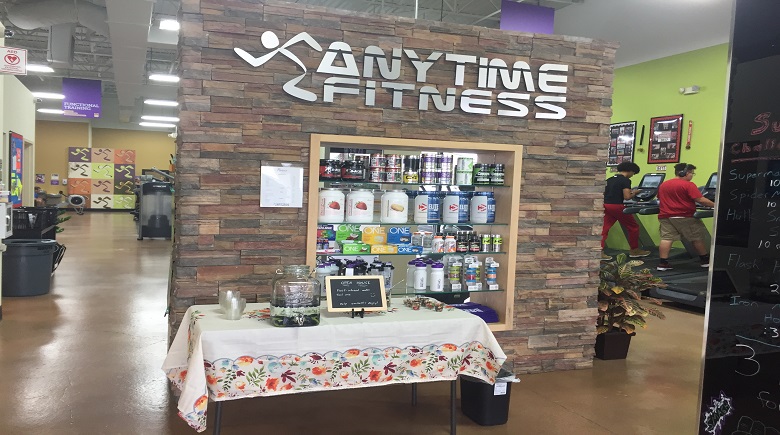 For those who love a good workout challenge, a team environment or personalized workouts, Anytime Fitness in Winter Haven is the place to be. The facility hosts a monthly open house that takes place every third Tuesday of the month.
Brian Dyke, Regional Team Leader, helps run the event every month.
Anytime Fitness staff members host the open houses for two reasons: "The first reason is to have some fun in the club with our members," Dyke said. "It is also to afford people the opportunity to try the club out at no expense and come with someone they know."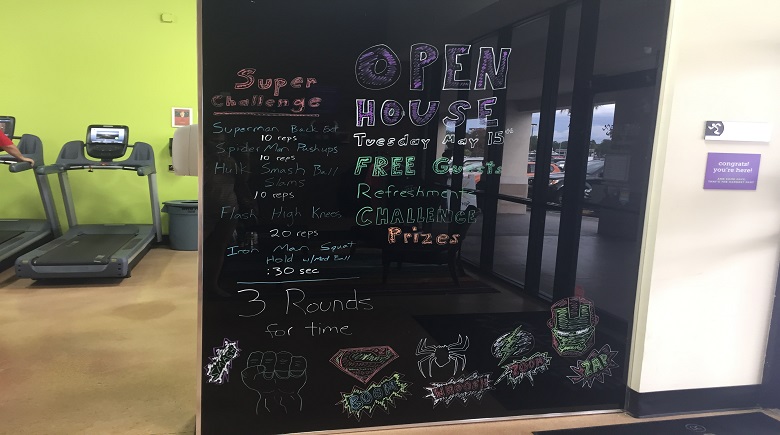 Follow the Open House Facebook page for more information:
https://www.facebook.com/events/377977669382970/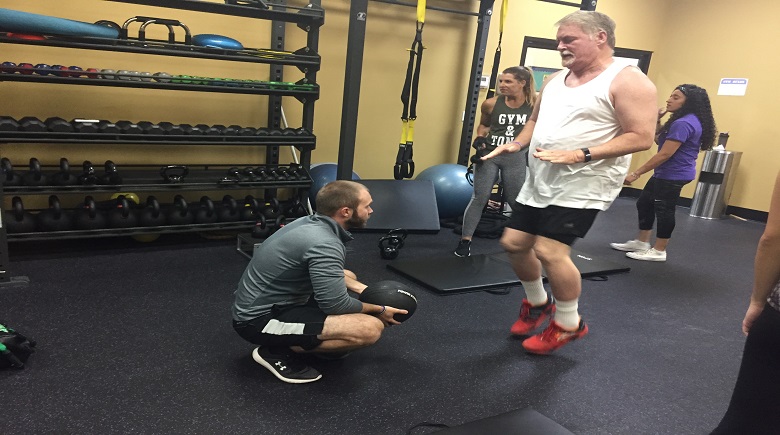 As a bonus, for the month of May, guests are invited to stop by every Tuesday for a free workout.
Staff invited members and guests to participate in the "challenge workout" throughout the day at this month's open house.
"It's just a fun way to engage with the members," Dyke said. "We do a different challenge every open house."
Tuesday's workout was extra "challenging" as members were invited to do the "super challenge workout" in addition to their group-training workout. Tuesday's workout consisted of two rounds. Members completed timed exercises, including jump lunges, Spiderman pushups, suspension 90-degree pull-ups and overhead medicine ball slams.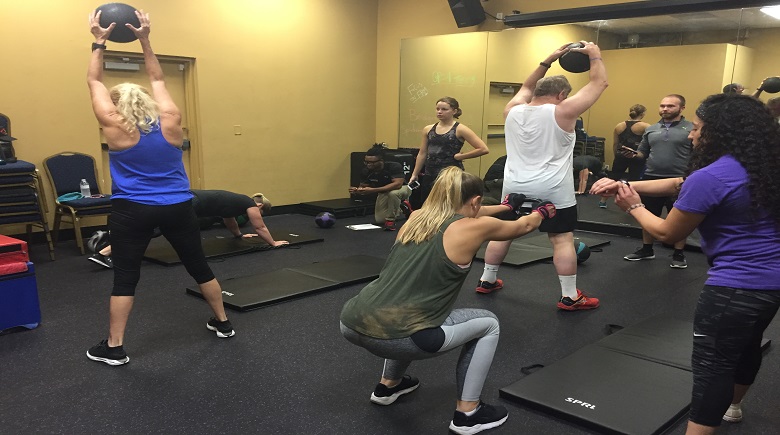 Anytime Fitness in Winter Haven offers group training Monday through Thursdays in the evening and Friday and Saturday mornings.
Heidi Hayes, Anytime Fitness owner explained how the group training sessions work. There are burn, build and bay session options.
Base sessions: beginner level
Burn sessions: intermediate level
Build sessions: advanced level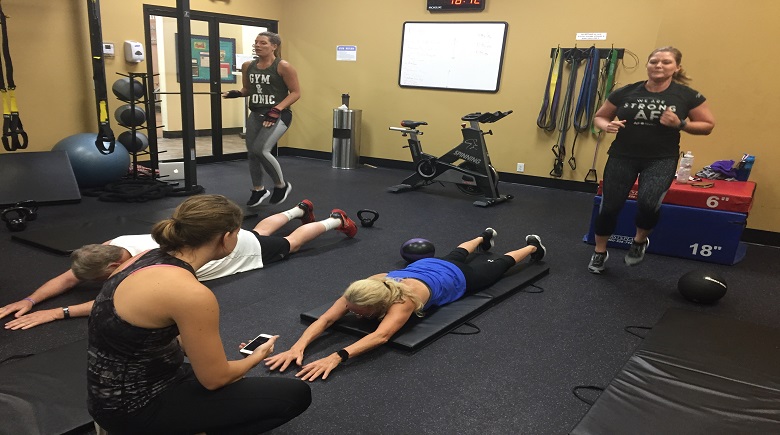 There is a group training session for all levels of fitness. "Sometimes getting into a group like this, people see that it is high intensity and they think 'well that's not for me', but we will actually go through an assessment and designate what type of session they belong in," Hayes said.
This process allows members to be placed in the appropriate group setting so that they feel more comfortable with their specific workout and surroundings.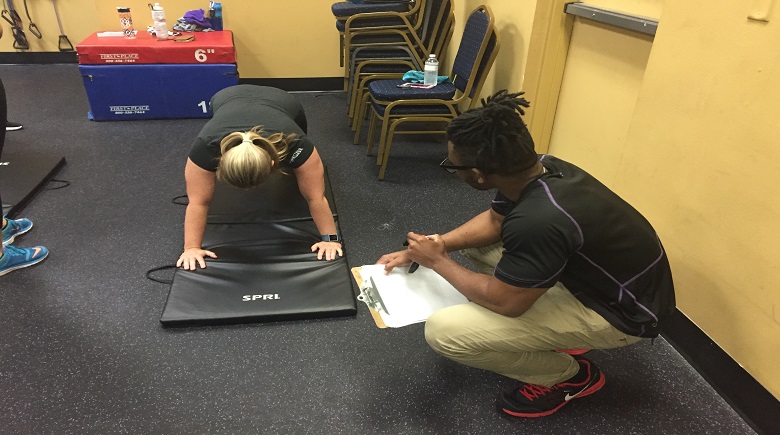 Anytime Fitness staff members are constantly striving to show the members of the community that they care about their fitness and wellbeing.
"Days like this are the exact reason why people should come here," Dyke said. "At the end of the day, we are just trying to show people that we care and we want to be a supportive community. We want to be involved and make sure people have a great experience here."
Those interested in hearing more about what Anytime Fitness has to offer are encouraged to attend next month's open house for a free workout on June 19. This will be a great opportunity to ask questions, try the equipment out and meet the staff.
Staff members will be happy to explain how memberships work, offer a tour of the facility and answer any questions.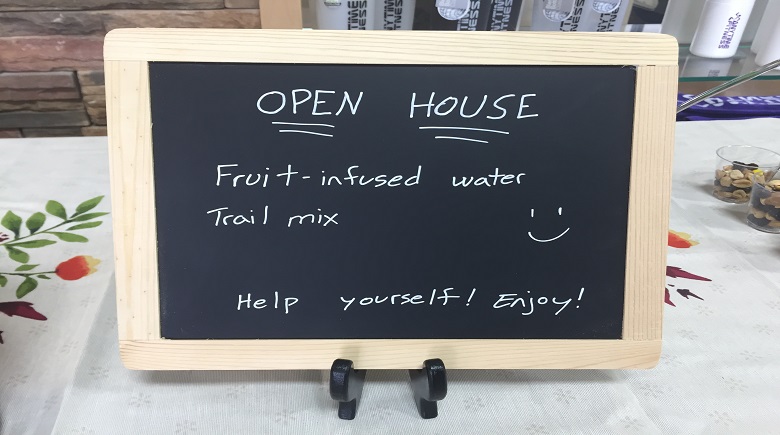 Anytime Fitness is located at 710 Cypress Gardens Blvd, Winter Haven, Florida 33880
Phone: (863) 280-6954
Website: Click here