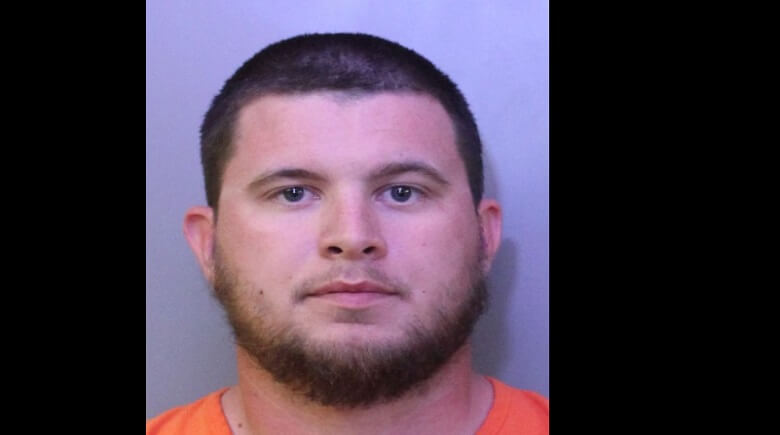 On Monday, April 30, 2018, PCSO Traffic deputies arrested 26-year-old Cody Wheeler of Bentley Oaks Blvd in Auburndale for 2 counts Leaving the Scene of a Crash Causing Serious Bodily Injury (F-2), after he was positively identified as the driver who hit two bicyclists on Spirit Lake Road in Winter Haven and fled the scene, on Wednesday, April 25, 2018.
According to the affidavit, the two victims – 30-year-old Alicia Eggersdorf and 35-year-old Steve Lampone – were riding their bicycles north on Spirit Lake Road, just north of Thornhill Road, around 25 minutes after midnight on the morning of April 25th (AKA the late evening hours of Tuesday, April 24th) when they were both struck from behind by an unknown vehicle. Both bicycles had operational lights. There were no witnesses to the crash. Both victims had significant injuries and were transported to an area hospital.
During the investigation, Traffic deputies analyzed the debris left at the scene, and identified the suspect vehicle as a 2014-2015 Chevrolet Silverado pickup truck. They also reviewed surveillance videos from cameras in the area. During the investigation, a possible suspect vehicle was identified as being registered to a man and a woman living on Bentley Oaks Blvd. in Auburndale – the man's name was Cody Wheeler. The truck is a white 2014 Chevy Silverado.
Traffic deputies interviewed the co-registrant of the truck, who confirmed she and her boyfriend Cody own the truck, that Cody is the only one who drives the truck, and that Cody was driving the truck that night. She told deputies that when Cody got home just after 12:30 a.m., he asked her to back her car out of the garage so that he could park the truck inside it. He told her that he hit something, and she observed the broken front headlight and damage.
Deputies observed the truck parked in the garage, and the front-end damage consistent with the crash.
Traffic deputies then responded to Wheeler's place of employment in Bartow, where they interviewed him. Wheeler confessed to crashing into something on the roadway that night, stopping at a nearby Publix store to inspect the damage to his truck, then driving home and parking inside the garage. He told deputies he wasn't sure what he hit.
He was booked into the Polk County Jail on Monday night, April 30th, and will have a first appearance hearing this afternoon at 1:00 p.m.
"Here is yet another example of an irresponsible motorist, who might not have been criminally charged if he had stopped to assist these two victims and contacted law enforcement. Because he fled the scene, he is facing two serious felony charges. We are encouraged by the reports that these victims should recover, although it will be a slow and painful process." – Grady Judd, Sheriff