Peak Bloom Season Arrives At Bok Tower Gardens
by James Coulter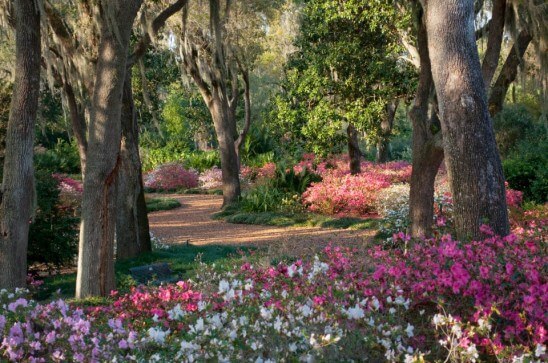 The first day of spring is right around the corner, and Bok Tower Gardens had already sprung into the season with its garden foliage in full bloom during its Peak Bloom Season.
All this month, guests can enjoy the springtime sights with more than 150 different camellias and hundreds of other flowers.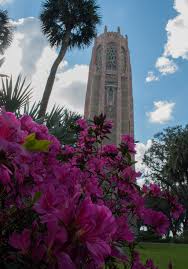 To help guests better enjoy the scenic springtime surroundings, several special events will be hosted this month:
Spring Wine Walk
What better way for wine connoisseurs to enjoy the start of spring than to take a leisurely stroll and admire the blossoming foliage with a cup of fine wine.
The Spring Wine Walk on March 10 will allow guests to sip, sample, and stroll through the gardens along a path with six designated stops at the most scenic locations, each one serving two different wines and a snack.
Each of the 12 wines have been carefully selected to reflect each of the designated areas of the garden, thus helping to compliment the overall scenery, and will all be served along with unique hordierves such as fruit sushi, or "frushi."
After their springtime stroll, guests can then make their way to the cafe terrace for an after party featuring live music and fine dining with their choice of either grilled chicken or red snapper, each topped with mango salsa and served with rice pilaf and seasonal vegetables.
This will be the second wine walk hosted at the gardens. The first walk was hosted in the fall and managed to attract more than 500 guests, explained Erica Smith, Bok Tower Marketing Director.
"With it being our very first one, we did not know what to expect, and we had close to 500 people come to our wine walk, which is a huge event for us," she said.
This year's walk is expected to attract the same number of guests, and with a beautiful weather forecast for that evening, the turnout is expected to possibly even be greater.
"The weather was spectacular, and people had such a good time," she said. "They had fun with the wine, and have a nice healthy stroll as you work off a few calories and enjoy the wine walk."
Bok After Dark
While the blooming trees look lovely in the sunlight, they look just as good in the moonlight. What better way to do that than during a nighttime clarion concert?
Bok After Dark offers guests the rare opportunity to enjoy the gardens at night with live music played on the patio and later from the tower itself with a clarion concert.
While most after dark events are hosted after dusk, this month's events will be hosted at dusk near sunset, allowing guests to enjoy the view of the tower and scenic landscape as the sun sets on the horizon.
"This year, because sunsets have been wonderful, we decided to change it up a bit so you can walk up to the tower while the sun is setting and it will be twilight as you walk down," Smith said.
After sunset, guests can then enjoy a musical experience as the tower bells ring out in song during the clarion concert, with the two events being themed to current popular music.
The first event, "An Epic Fantasy", on March 15 will feature a selection of musical scores from popular movies such as Harry Potter, Star Wars, and Lord of the Rings. The second event, "Rock The Bok", on March 29, will showcase rock anthems from metal bands such as ACDC and Metallica.
As the deviation from the classical clarion concerts, the concerts this month will have a greater focus on a younger crowd, thus allowing guests of all ages to better enjoy the music, Smith said.
"We have a heritage of playing high classical music," she said. "It is something interesting when you can hear Metallica or ACDC being played on the bell towers, it is so fun and different and useful, and that is what we want people to do, for them to come and hear and enjoy and want to provide music relevant to a younger audience."
Other Events
Carillon Classic 5K (March 10): Run, walk, or jog your way through the garden and along scenic Iron Mountain during a race along "Central Florida's most challenging 5K course."
Family Camping Adventure (March 17 and 18): What's better than enjoying the garden during the day? How about enjoying it all weekend with the opportunity to camp in the gardens and enjoy various other camping activities such as stargazing and campfires.
Founder's Room Tour (March 24): Very few people have been allowed inside the tower, and this month, members at the Sustainer Level will have a rare opportunity to take an exclusive tour inside by reservation.
For more information about upcoming events, visit their website at: https://boktowergardens.org/