Polk County Fire Rescue Christmas Miracle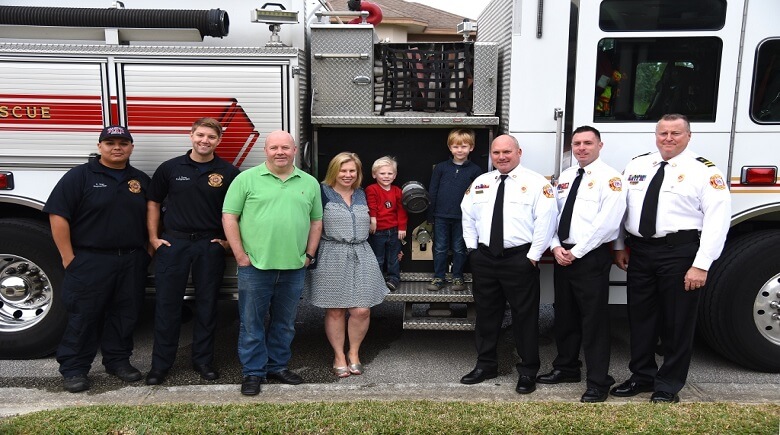 Bartow, Fla. (Jan. 3, 2018) — 
The near-drowning of Walter Johnson's 3-year-old son Dec. 21 came with no sound.
There was no splash. No gasp for air. No frantic scream. All Johnson saw was his son, Wyatt, floating unconscious in the pool.
"Drowning is the third leading cause of death in children nationwide and first leading cause of death for children 1 to 4 years old," said Raf Vittone, the deputy chief of medical services for Polk County Fire Rescue.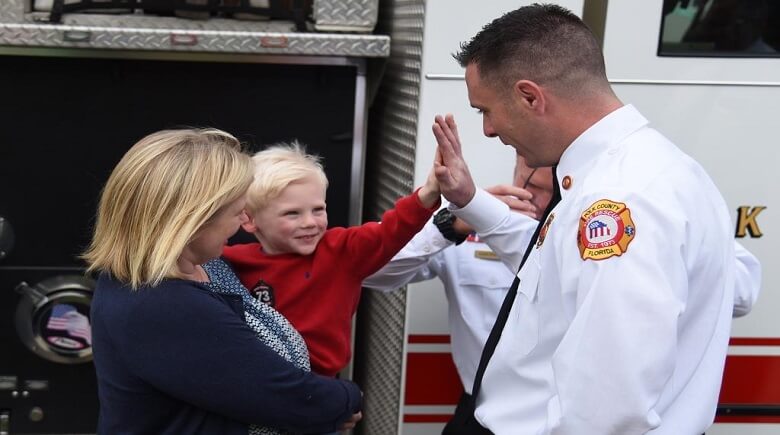 Three children die from drowning each day in the US. Florida leads the country in drowning deaths of children 1 to 4 years of age.
Last year, Polk County Fire Rescue was called to 32 possible child drownings and saved 21 of these children. In 2015, Polk County Fire Rescue introduced the Handtevey Pediatric Resuscitation System and think this approach to pediatric cardiac arrest is the catalyst for Polk's increased pediatric survival rates.
Thankfully, this instance turned into more of a Christmas miracle instead of another tragic statistic.
What started as a happy, relaxing vacation away from their New York home quickly turned frantic, as Walter Johnson saw his son floating, unconscious in the pool.
He yelled for help as he dove in to retrieve Wyatt from the pool and immediately began CPR. Wyatt's mother, Sarah Johnson, quickly dialed 911 and ran to take over CPR. The dispatcher on the phone talked them through what needed to be done as they waited for responders to arrive.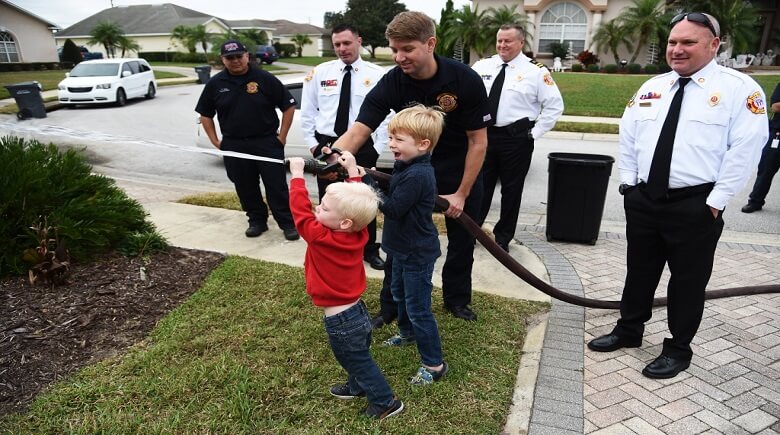 Polk Fire arrived about seven minutes later and began to treat Wyatt. Ten minutes after their arrival, the ambulance was on its way to the landing zone for Wyatt to be flown to Tampa General Hospital. After brief treatment, he was released Christmas Eve, just in time for the holiday.
Wyatt's parents did everything right. There was a gate around the pool, plenty of adult supervision, the parents had been trained in CPR and the children had received swim lessons. In only seconds, and without sound, Wyatt nearly drowned.
Wyatt's parents were thankful for the life-saving work performed by the rescue crews.
"We want to thank you all for your commitment to saving lives," Sarah Johnson said. "We are grateful for your skills and compassion in helping us save Wyatt's life from this near drowning. From the bottom of our heart, thank you for this Christmas miracle and keeping our family of four together."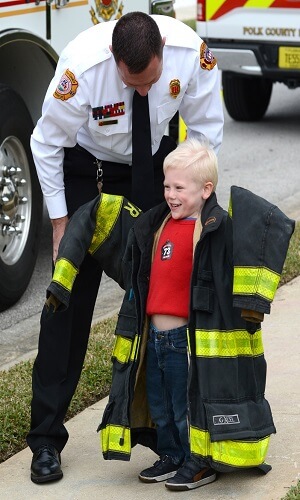 The following employees were part of the response team:
·
Engine 411: Capt. Brandon Carmack, engineer Dean Molnar, and firefighter Matt Brown.
·
Engine 441: Capt, Alex Pullen, engineer Chris Vega, and firefighter Frank Morrison.
·
Medic Rescue: Firefighter paramedic Ellert Toohey and firefighter/EMT Lance Dunn
·
Dispatch: Melissa Smith, telecommunicator