Polk County Sheriffs Office Press Release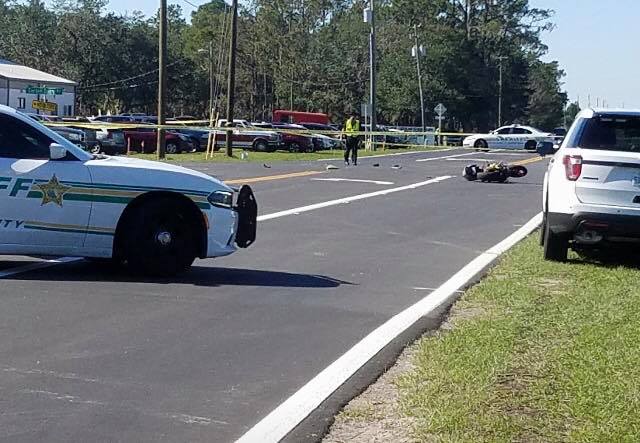 Winter Haven, Florida – On 12/10/2017, at approximately 11:09 a.m. a vehicle versus motorcycle crash occurred on Bomber Road at Gerber Dairy Road, Winter Haven (Wahneta). Alfred Lee Kinsey, 44, of Bartow died as a result of injuries sustained in the crash.
Witnesses and evidence gathered at the scene indicate that a 2004, Red Chevrolet Pick-up truck, was in the westbound (center) turn lane on Bomber Road, in order to turn southbound on Gerber Dairy Road. The driver, Jose Orlando Montenegro Rodriguez, 28, of Frostproof, turned into the eastbound lane of Bomber Road where a 2004 Yellow Kawasaki sport bike being driven by Alfred Kinsey struck the pick-up truck. Mr. Rodriguez told deputies he did not see the motorcycle. The motorcycle left breaking skid marks prior to striking the pickup. Upon impact, Mr. Kinsey was ejected and came to rest in the middle of the roadway. Mr. Kinsey was wearing a helmet. He was transported to Winter Haven Hospital and died shortly after his arrival.
Speed, impairment, nor distracted driving appear to be factors in the crash. The investigation is ongoing.