Polk County Seeks Diversity Program Recruits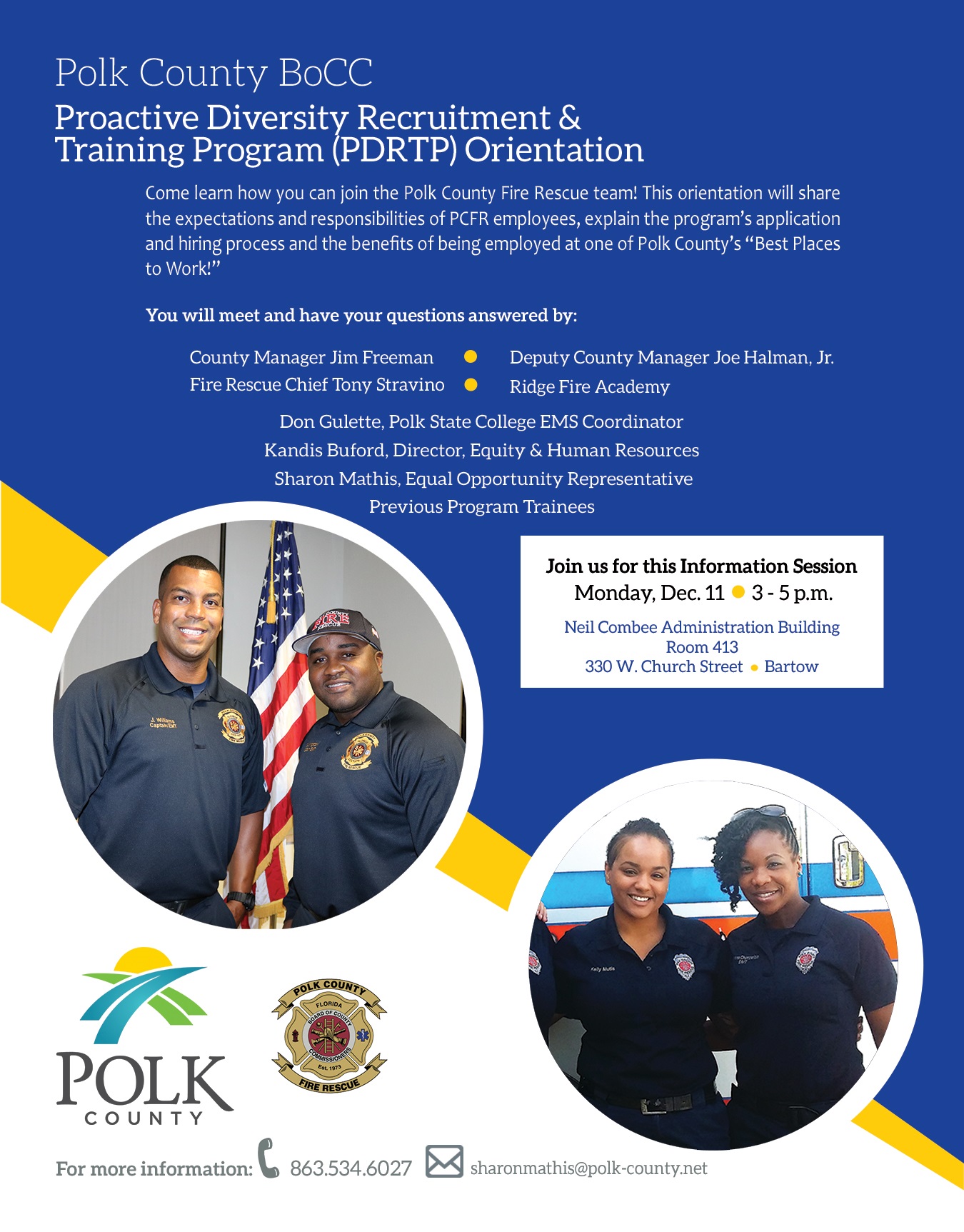 Bartow, Fla. (November 30, 2017) — The Proactive Diversity Recruitment and Training Program (PDRTP) is seeking three residents who would like a Polk County Fire Rescue career.  An orientation program to explain the benefits of the program, how to apply and the hiring process will be held on Monday, December 11, 2017 from 3 to 5 p.m. at the Neil Combee Administration Building in Room 413. It is located at 330 W. Church Street in Bartow.
 The PDRTP is designed to help increase diversity within Polk County's fire rescue workforce.
 Applicants selected will receive training and education to assist with obtaining the required firefighter and Emergency Medical Technician (EMT) certifications. All books, materials and equipment needed for the required firefighter and EMT courses will be provided.
 Recruits selected are paid an hourly salary, receive free schooling for required certifications and will then be hired by the fire rescue division once they successfully complete the program.
 Minimum eligibility qualifications include:
Must be at least 18 years old and have a high school diploma or equivalent
Pass basic reading comprehension and math test
Must possess and maintain a valid Florida driver license
Complete a county driving course
Pass a criminal background check
Pass a medical screening
Pass a physical agility test
Sign a sworn affidavit attesting to the non-use of tobacco products
Be economically disadvantaged by HUD guidelines
Must be a Polk County resident for two years prior to application submission
For more information, contact Sharon Mathis at (863) 534-6027 or [email protected].