Suspect Caught on Video Surveillance Looting Restaurant After Curfew
Polk County Sheriff's Office detectives are attempting to identify a suspect who burglarized Dona Julia's Mexican Restaurant located at 5375 S. Florida Avenue in Lakeland during the state of emergency.
The suspect forced entry into the restaurant on Tuesday, September 12, 2017, around 1:12 a.m., after he threw a cement paver through the front door. The business owner told detectives the suspect stole approximately $300.00 worth of alcohol.
The suspect is believed to be a white male, 5'7″ – 5'9″ in height, approximately 20-30 in age, and is medium build. He is wearing a white ball cap (with a dark colored bill), a light colored shirt under a light colored button up, long shorts, and athletic type shoes. He has dark hair and a dark beard.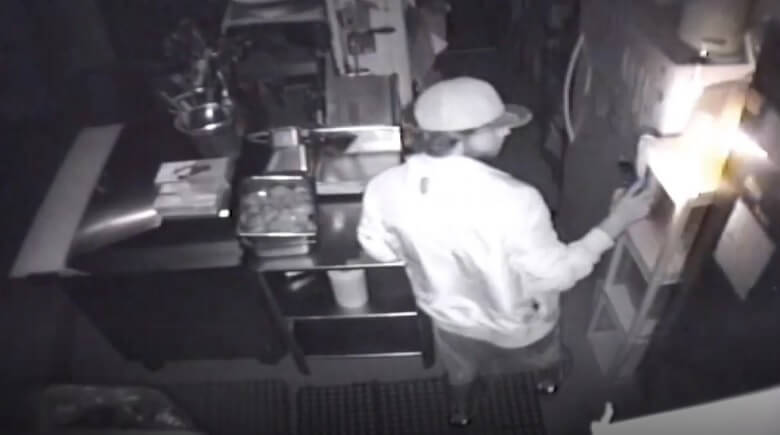 "Let's catch this guy. With so many people helping each other in the aftermath of Hurricane Irma, this thug wants to steal from a local business. Shame on him. Call us or call Crime Stoppers if you know him. Let's put him in jail." Grady Judd, Sheriff
If you have any information about the identity of this suspect please call Detective Williams at 863-499-2400, 863-298-6200, or email him at [email protected]
Anyone with information who wants to remain ANONYMOUS and to be eligible for a CASH reward is asked to call Heartland Crime Stoppers at 1-800-226- TIPS or log on to www.p3tips.com to submit your tip via the web. For a secure and password protected mobile app for your smart device, go to the app store and download the free "P3tips" mobile app. No caller ID, no recorded lines, no tracking cookies, no saved IP addresses. ANONYMITY IS GUARANTEED!