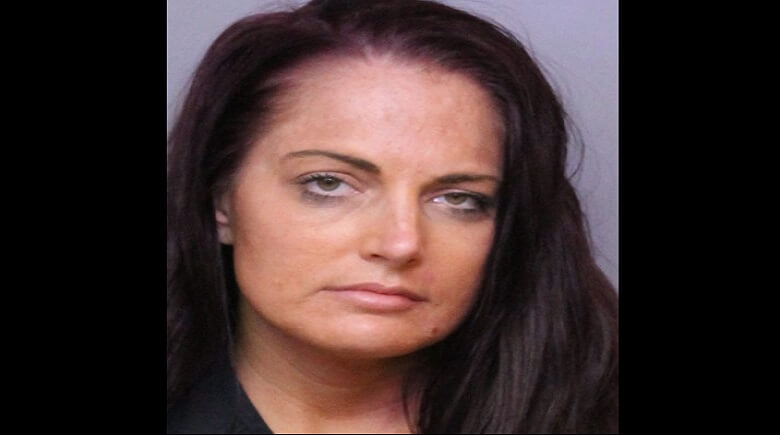 PCSO Press Release:
On Tuesday, September 5, 2017, Polk County Sheriff's Office deputies arrested a former PCSO records clerk for one count child abuse (F-3).
38-year-old Marianne Connolly was hired as a records specialist in October 1997. She resigned effective immediately upon her arrest – had she not resigned, she would have been terminated. Her most recent salary was $34,751.
According to the affidavit, Connolly picked up the victim from an after-school program in Lakeland, and drove him to the Tampa area. Meanwhile, the victim's father was supposed to pick up the victim – when he arrived at the after-school program in Lakeland and found that Connolly had already picked the victim up, he called Connolly repeatedly but she would not answer. He then texted back and forth with the victim and located the victim on the "Find my Friends" phone app. The victim told him Connolly was driving erratically and not making sense. The victim also told his father that they had been in two crashes. When the victim's father located Connolly driving back to Polk County and followed her, he called DCF and law enforcement. She tested positive for three different drugs, and was arrested – see below.
The following is an excerpt from Connolly's affidavit, and is self-explanatory:
The victim's father advised at 1837 hrs, he received a text message from the victim advising they were involved in an accident, but they were okay. The victim's father said he then received another text from the victim at 1856 hrs advising they were involved in another accident.
Upon learning this information, the victim's father got into his vehicle and started traveling towards Tampa while also calling law enforcement to report Ms. Connolly's condition and that she was involved in two traffic crashes in less than an hour. The victim's father said he continued to monitor the victim's location by using the "Find Friends" app on his cell phone and noticed they were traveling back to Polk County on Interstate 4.
Eventually, the victim's father found Ms. Connolly's vehicle traveling east bound on the Polk Parkway. He was able to get behind Ms. Connolly and began following her. He stated he noticed Ms. Connolly was swerving all across the road. He said he called Ms. Connolly and when she answered he told her he was behind her and that he was going to meet her at her house. He advised Ms. Connolly suddenly turned off the Polk Parkway onto South Florida Avenue in Lakeland. He advised he believed Ms. Connolly was going to her parent's house, so he called her father to report her current condition.
The victim's father stated he drove to Ms. Connolly's parent's house and noticed Ms. Connolly's car was parked outside. After a few minutes of talking with Ms. Connolly, he was able to get the victim in his truck and left back to his house. He stated a short time after he arrived at his house Ms. Connolly showed up demanding the victim be returned to her. He said he did not witness any further of Ms. Connolly's erratic driving or behavior after he left Ms. Connolly's parent's house and returned home and she was not continuously observed driving her vehicle.
The victim's father stated before Ms. Connolly arrived at his house he called the Polk County Sheriff's Office and the Department of Children and Families to report Ms. Connolly's actions and the danger she placed the victim in. 
A Child Protection Investigator (CPI) and a Deputy Sheriff arrived at the victim's father's home and noticed a black BMW parked sideways and partially in the roadway of the driveway. The CPI noticed the driver's side door was open and legs sticking out of the car. The CPI approached the vehicle and the female identified herself as Ms. Connolly. The CPI stated Ms. Connolly was slurring her speech and kept saying she wanted the victim back. The CPI advised Ms. Connolly was tripping over herself and appeared impaired, but she could not smell any alcohol. Ms. Connolly told the CPI and the deputy sheriff that she is prescribed Oxycodone, Morphine, and Xanax. The CPI asked Ms. Connolly if she would submit to a drug screen, which she agreed. Ms. Connolly tested positive for Oxycodone, Morphine, and Benzodiazepines.
The CPI conducted a screening with Ms. Connolly and the victim about this incident. The victim stated when Connolly picked him up from the after school program she told him they were going to Orlando to see her doctor. The victim stated Connolly did not go to Orlando and instead she went to Tampa. The victim said she was acting different and saying things that made no sense. The victim advised he was scared because of how she was acting and because they got in two car accidents.
During a post Miranda recorded interview with Ms. Connolly she admitted to taking one pill of morphine and one pill of oxycodone in the morning. Ms. Connolly later stated she took another oxycodone in the afternoon. Ms. Connolly gave several different reasons why she is prescribed these pain medications. During my interview with Ms. Connolly she struggled to remember what occurred earlier in the afternoon while she was driving her vehicle with the victim in the passenger seat. Ms. Connolly said she needed to go to her doctor's office to get a prescription because she was scheduled for surgery on 09-07-17. I asked Ms. Connolly about the video the victim took of her inside the car and she did not remember acting that way.
Based off my investigation, I determined the defendant committed child abuse by operating a motor vehicle while impaired and after being involved in two separate motor vehicle crashes, thereby placing the victim in danger. Ms. Connolly was arrested and transported to the Polk County Jail without incident.