By Kip Kirchberg
Watching the news, it is very heartbreaking to see all the devastation that has taken place in Texas due to Hurricane Harvey. The Hurricane Harvey dropped in excess of 51" of rain in a very short period. This unleashed flash flooding that caught many residents off-guard. Those that were able to flee the area did so. However, many more were not so fortunate and were stuck to fend for themselves and fight to survive.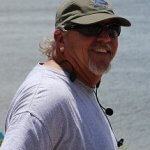 Sitting watching the news local Lake Wales Business owner and Houston, Tx Native Jim Vaughn felt a strong tug on his heart to do something. For Jim it was so heartbreaking to see all the devastation knowing he had friends and family in the area affected by the storm. Finally, the urge to do something over took Jim.
Jim and his team made the decision to head to Texas on Sunday morning and provide any help they could to those in need. Jim and his crew (Willie, Scott, Manel, Kathy, and Jim) loaded 4 trucks, 4 airboats, and a semi in preparation for their trip. By 8pm Sunday evening they said their goodbyes to their families and headed to Texas to help those who were stranded and needed rescued.
Upon arriving in Texas Jim and his team had to work with the Coast Guard to get a fairy to boat them and their gear through the flooded area and to a safe zone where they could stage their gear. Jim was able to contact a few friends in Texas and ended up at a local friend Jesse and Brenda's home.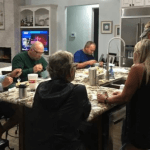 Jesse and Brenda fed Jim's crew and provided them a place to stay for the night. The crew definitely needed a good rest and time to work with local organizers who could guide them to the areas where their help was needed the most.
Jim had a boat and man for each boat, however, the coast guard required every boat be manned with at least two crewmembers.  This is when some of Jim's friends and local people jumped at the opportunity and assisted Jim and his crew further by riding along in the boats to assist with efforts. To ensure the crews gear on land stayed safe some local residents stayed with the crews truck and semi's so they were protected from looters.
Jim and crew headed out first thing the next morning and started their rescue efforts. It did not take long for them to fill their boats with people who needed help. The people they rescued were very thankful and welcomed him and his crew with opened arms. Jim and his crew continue to run rescue missions based on a daily Intel briefing they receive from local coast guard and rescue organizers. Although rain has stopped flooding conditions will continue to be a challenge and potentially affect new areas.
It is hard getting information back from Jim and his crew as they are very busy rescuing those in need. To be honest Jim is not a person who likes to receive any attention. He is a behind the scenes type person that just makes things happen. Please pray for Jim and his crew as they continue their efforts in Texas.
You can follow some of their rescue efforts on their Facebook page here.