Our family loves to travel and explore new things. Well, this year we had some challenges that forced us to revisit the same location two years in a row. I must tell you I was a little hesitant returning back to Gatlinburg, Tennessee given the fact it made national headlines due to a massive wildfire less than a year ago. I can assure you Gatlinburg, Tennessee is alive, well, and ready for business.
Come along on our journey to Gatlinburg, TN. We will share our experiences along the way as we visit Dinner Theaters, partake in outdoor adventures, visit antique shops, and visit historical downtown Gatlinburg.
When traveling for family vacations our family like to camp. And when I say camp I really mean RV. For this family vacation the two requirements for our campground in Gatlinburg, TN were full hookups, a riverside lot, and close proximity to area attractions. We found a little campground call Imagination Mountain Campground Resort that fit all our requirements.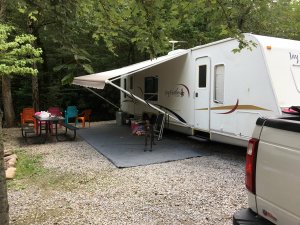 After settling into our campground it was time to go explore the area. Since we were camping in a centrally located area we had easy access to Pigeon Forge and Gatlinburg. Upon arriving at any new destination our favorite thing to do is collect the discount and coupon books and look for things we would like to do.
After collecting several books we decided to drive through Gatlinburg then wander over to Pigeon Forge to get an idea of the things we wanted to include on the agenda based on our observations. The more we drove the longer the list became. Finally, the family decided it was time to just wind down and enjoy an evening of dinner and fun. So we opted to go see the Dinner Show Hatfields and McCoys. The food was served all you can eat and the show was excellent. Really I don't think there was a bad seat in the house.
Seeing the towns and taking a dinner show just seemed like the best way to kick off our week long vacation. Now it's time to head back to camp and decide what adventures we want to plan for the week. Based on our conversations we will be very busy.
Check in tomorrow to see what adventure we went on first.