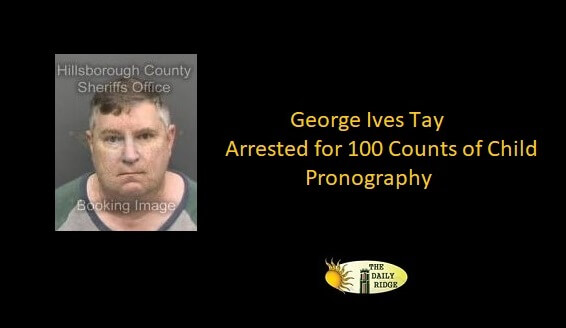 LAKELAND, FL (July 9, 2017) – On July, 8, 2017, George Tay, 55 years old, was arrested and charged with 100 counts of Possession of Child Pornography.  Tay, a resident of Valrico, Florida has been under investigation since mid April after images of child pornography were found on his work computer.
On April 19, 2017, Tay was placed on administrative leave by his employer, BrightVolt, 2700 Interstate Drive, Lakeland. A BrightVolt Information Technology Manager was troubleshooting Tay's assigned work computer after experiencing technical issues. During the computer evaluation, the Manager observed what appeared to be videos of child pornography on the computer's hard drive. Officials from BrightVolt immediately contacted the Lakeland Police Department and filed a report. Tay's computer was seized and turned over to detectives for a full forensic examination.
That same day, Tay returned to his home in Valrico and left a note for his wife stating he was sorry and gave her instructions on how to proceed. After reading the note, his wife called the Hillsborough County Sheriff's Office (HCSO) and a Missing and Endangered Adult report was filed at 6:55 p.m. Online banking statements show that Tay made a $140.00 deposit to purchase a Mossberg 590 Shotgun earlier that same afternoon.  HCSO learned that Tay was back at his residence the next day, April 20th, responded to the location and took him into custody under the Baker Act Law.
BrightVolt acted proactively, bringing this matter to the attention of the Lakeland Department and terminated Tay on April 20th. The company has fully cooperated throughout the investigation. Detectives completed their forensic examination, acquisition and analysis of Tay's work computer. Detectives identified at least 100 images of of child pornorgraphy.  Some of the images are of children being sexually battered by adults to include at least one image of one child under the age of 5 years old.
Based on the evidence, Detective Parker charged Tay with Possession of Child Pornography x100 counts, FSS 775.0847 (2)(b)1.3 (Felony in the 2nd Degree). Tay remains in the custody of the HCSO at this time and he will be brought back to Polk County at a later date.