13 high school graduates received scholarships from the Polk County Police Chiefs Charitable Foundation in honor of the late Auburndale Police Chief, Nolan McLeod. McLeod, who died of stomach cancer in 2012, told family and friends his dying wish was to help the children of law enforcement officials in Polk County.
The ceremony was held at the Bartow Civic Center during the monthly Polk County Police Chiefs Association's meeting. The scholarships are funded solely through private donations and fund raisers held through the year. One of the major events is an annual clay shoot that takes place at Catfish Creek in Haines City. This year, the clay shoot event was so successful the scholarships awarded increased from $16,000 to $23,500.
"Nolan was a believer in education, and he wanted to see more opportunities for children of law enforcement officers," said Nancy McLeod, McLeod's wife who also attended the ceremony along with sons Joel and Chad.
Lake Wales Police Chief Chris Velasquez, president of the Polk County Police Chiefs Charitable Foundation, said it was an honor for the foundation to award the scholarships.
"One of Chief McLeod's last requests was to create a scholarship fund for students," he said. "We are pleased to once again have the opportunity to award these scholarships and invest in the children of our fellow officers."
Eligible students submitted an application, which includes an essay, the name of the school they plan to attend and their intended career field. A selection committee then reviews and ranks the students based on their applications.
The winners of the 2017 Polk Police Chiefs Charitable Foundation Scholarship are:
Tyler Baggett – Southeastern University
Jacob Black – Florida College
Jessica Perez – Polk State College
Ethan Sanchez – Florida Gulf Coast University
Taylor Hammersla – Southeastern University
Travion Hodge – Alabama State University
Ranger Hughes – Polk State College
Courtney Lang – Seminole State College
Jonathan Lehman – Samford University
Saylah Preston – Flagler College
Madison Roberts – Warner University
Brianna Storie – University of Florida
Kaitlyn Wines – Polk State College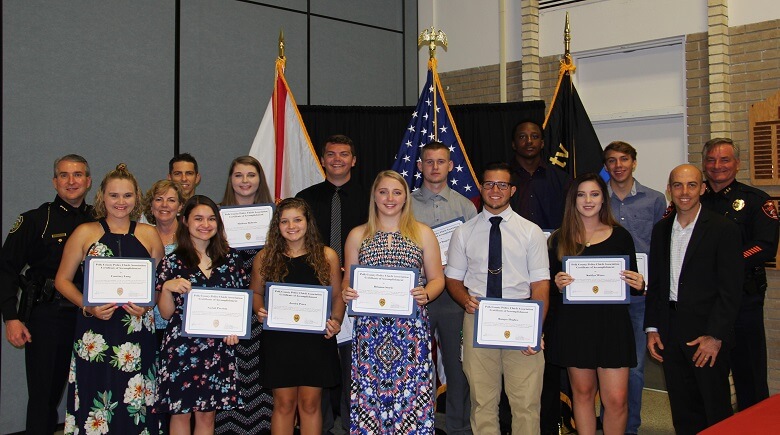 Picture of recipients attached:
(Front L-R): Courtney Lang, Saylah Preston, Jessica Perez, Brianna Storie, Ranger Hughes, Kaitlyn Wines, Chad McLeod
(Back L-R): Lake Wales Police Chief Chris Velazquez, Nancy McLeod, Joel McLeod, Madison Roberts, Ethan Sanchez, Tyler Baggett, Travion Hodge, Taylor Hammersla, Lakeland Police Chief Larry Giddens (President of the Polk County Police Chiefs Association)
(Not Pictured: Jacob Black and Jonathan Lehman)