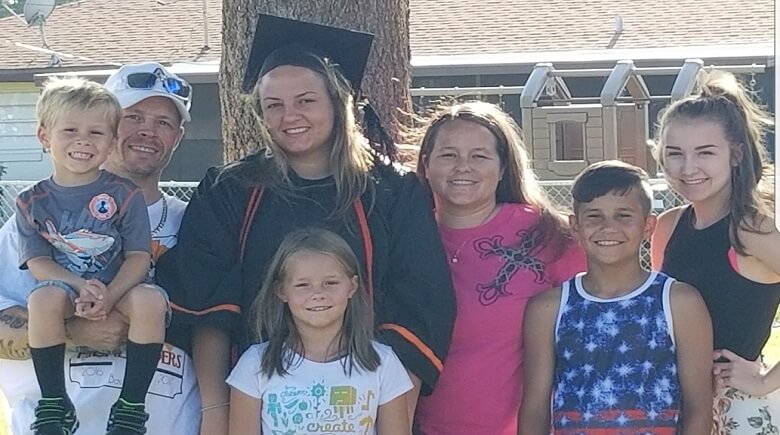 Lake Wales High School junior Shyla Collins joined the LWHS Graduating Class of 2017 at last Friday's ceremony that was held at Legion Field in Lake Wales. Shyla had a 4.1 GPA and was 24th in her class. She graduated with Honors and National Honor Society recognition.
But a week earlier, she had no idea that she would be graduating on Friday. The revelation caught her and her parents off guard.
Shyla's mom, Natasha Alexander, said she was aware of the possibility but the actual paperwork was signed just a week before graduation.
"She knew at the beginning of the year she could possibly graduate as a junior…through-out high school she was doing dual enrollment at Polk State College".
Dual enrollment allows high school students to take college classes while still in high school and earn credit for those college courses that will count towards both high school diploma and college degree requirements at the same time.
Shyla always excelled in school and began taking dual enrollment classes in ninth grade.
At the beginning of the year, Shyla was informed that she had fulfilled her high school requirements and could graduate early. But Shyla had concerns and spoke to her mom and her dad, David Alexander, about her feelings concerning graduating early.
Shyla told her parents that she felt at the time that she would be missing out on the senior experience such as Senior Pics, the Senior Bash, Senior Brunch and trips with the class to places like the Bok Tower Senior tour which takes students inside Bok Tower and visits with classmates to Orlando theme parks.
So Shyla decided to stay in high school for another year, giving her time to finish her AA degree at Polk State College which was almost complete. She would just schedule OJT and electives for classes at LWHS and would continue attending Polk State College to finish her degree…… At least that was the plan…
While at school recently, the plan Shyla had made changed drastically when she was informed that Polk State College would only pay for three years and that she would need a waiver to attend a fourth year. Also, due to how the grading system works, attending high school for OJT classes and electives could affect her overall GPA and possibly lower it.
So Shyla decided to graduate and with the paper work finalized last Monday, Shyla and her family had five days to prepare for her graduation. So Shyla's mom, Natasha, jumped into action to make it happen.
"What most parents have a year to prepare for; we had five days" said Natasha.
Shyla's parents immediately rose to the challenge and began preparing for her graduation. A friend of the family offered to take graduation photos for them and LWHS arranged for Shyla to attend the Bok Tower Gardens Senior tour on Tuesday. But still, some things would still be missed including a full year of cheerleading with her cheerleading coach Shay Hixenbaugh.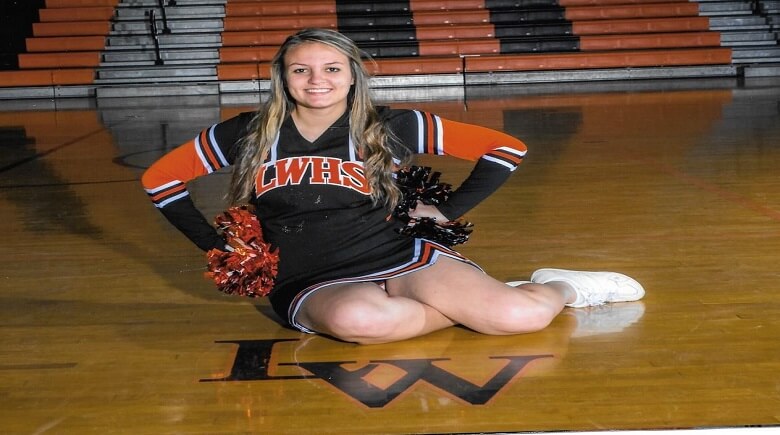 "I not really worried about anything I missed" says Shyla "I just really wanted to cheer my last year".
So after three years of high school, dual enrollment in college, working as a YMCA counselor and serving one day a week at a local restaurant, new graduate Shyla Collins is looking forward to time off during the summer to unwind and enjoy some free time. As the oldest of five children, Shyla was given some sage advice by her mom concerning her summer off from school.
"Please just remember; don't take too long of a break….a lot of people, they take a long break and then they enjoy the money too much from working and they forget about the college part…".
After the summer, Shyla will be heading back to LWHS, but it will be as a paid employee. Shyla was hired by Lake Wales High School to work with the children at the Little Highlander Academy located at the school. Shyla has the distinction of being the first junior to ever complete the CDA class (Child Development Associate) and after passing the district test, was hired by the school.
Shyla plans to attend South Florida College, transferring her college credits from Polk State College to seek an Associate of Science degree in Dental Hygiene at South Florida.  When she told her mom of her new plan for college, her mom, Natasha had one question…
"How do you go from child care to dental hygiene??!"
Shyla's answer surprised her mom and was one that her mom could not refute.
Shyla said "Mom, you always said have a Plan B" to which her mom fully agreed; mentioning that if Shyla decided she didn't like Dental Hygiene she could always take up Pediatric Dentistry.
So congratulations to Shyla and her parents and to this years graduates of LWHS Class of 2017!!!!!
Good luck and best wishes for the future as well as the many opportunities available to you because of the hard work and dedication you put into your education.
In today's economy, the need to prepare students for success in college and career cannot be understated. Studies have pointed out the many challenges that are faced by those who lack a high level of knowledge and skills when it comes to competing for employment in the global marketplace.
No longer will a high school diploma alone guarantee a job for a graduate; without a post-secondary degree or certificate, it will be difficult for most students to survive and thrive in this ever changing world we live in.
Dual enrollment and other early college programs offer an avenue toward meeting these challenges. There is evidence of success among dual enrollment programs in improving dropout rates and helping to move more students onto a college-bound track.