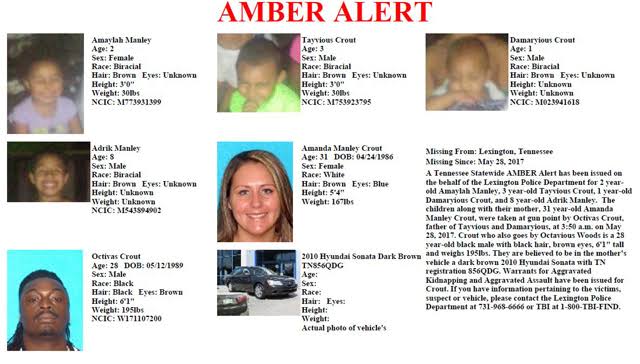 Lexington, Tennessee – An AMBER Alert has been issued Sunday for a mother and her four children who were taken at gunpoint from Lexington, Tennessee.
The Tennessee Bureau of Investigation reported 8-year-old Adrik Manley, 3-year-old Tayvious Crout, 2-year-old Amaylah Manley and 1-year-old Damaryious Crout were taken along with their mother, Amanda Manley Crout, 31 by Octivas Crout around 4 a.m. Sunday.
Octivas Crout, 27, who is the father of Tayvious and Damaryious, also goes by the name Octavious Woods. He is 6 feet 1 inch tall and weighs 195 pounds.
They are believed to be in the mother's dark brown 2010 Hyundai Sonata with Tennssee license plate 856QDG.
Anyone with information is urged to contact the Lexington Police Department at 731-968-6666 or TBI at 1-800-TBI-FIND.