Suspect Charged After Eating Pancakes in Roadway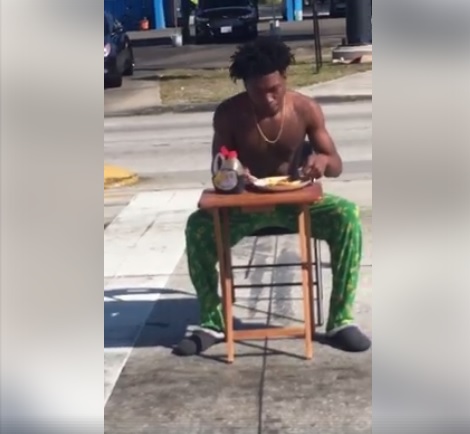 LAKELAND, FL (March 24, 2017) – On March 21st at 10:50 a.m., the Lakeland Police Department received a call about a man sitting in a crosswalk of the eastbound lanes of Memorial Boulevard and Brunnell Parkway. The caller stated the subject was sitting in a chair with a small "TV" table in front of him eating what appeared to be pancakes. Responding officers were unable to locate the subject and determined that he had left the area prior to their arrival.
A video of this incident was later posted on Facebook and shared in a message to the LakelandPD Facebook. In addition, several people tagged the video with his name, Kiaron Thomas.
The incident was followed up by the Neighborhood Liaison Officers on March 23rd and officers determined that he lived approximately 100 yards south of the intersection of the incident. Thomas was interviewed and he admitted that he did it as a prank.
Thomas's actions prevented vehicles from moving and created an obstruction. Thomas was charged with: Placing an Obstruction in the Roadway and Disrupting the free flow of traffic and issued a court date of April 25, 2017.
Below is a link to a video of the incident:
https://www.facebook.com/travis.riley.39/videos/1267075326710069/