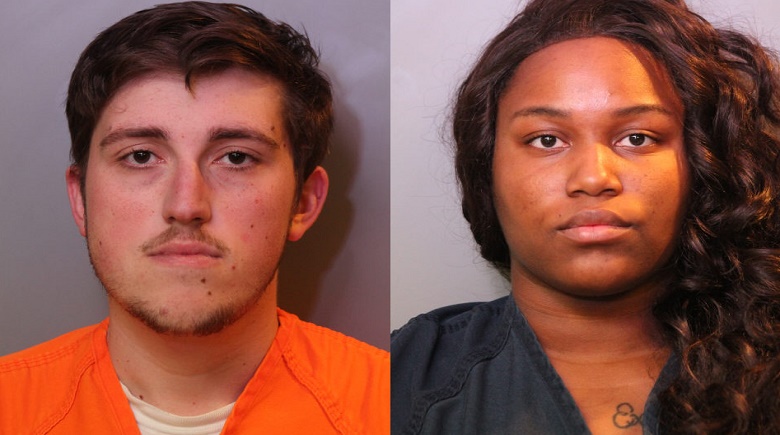 WINTER HAVEN –  An argument over a Facebook post has landed an ex-boyfriend and his current girlfriend in jail after the pair confronted the former girlfriend at her home.
On 3-23-17 at approximately 6:26 p.m., Winter Haven Police responded to a caller reporting that there was a fight in their neighborhood and a gunshot was heard. Officers arrived at the incident location on Whispering Trails Place where the altercation had already dispersed. The victim, 24 year-old Colecia Wilson told officers that she was outside of her residence with her children when her ex-boyfriend, 24 year-old Charles Sigler (DOB 1-22-93) and his current girlfriend, 23 year-old Monica Little (DOB 5-30-93 – both live at 911 Hillside Ct. S, Winter Haven) pulled up to the house. Little got out of the vehicle and approached the victim and started a verbal argument.
Little grabbed the victim and started dragging her across the yard and into the roadway. Little then spit in the victim's face and told her, "Things are not over!" (Neighbors escorted the children inside of the home as soon as the altercation began.) Wilson suffered minor scrapes to her legs during the altercation.
During this time, Sigler was standing beside of his vehicle wearing a black trench coat holding a sawed-off shotgun. During the altercation, Sigler fired one shot into the air. According to Sigler, he fired the shot in the air in an attempt to break up the fight and disperse the crowd that had gathered. Little and Sigler then got into his vehicle and left the area.
A short while later, officers located both Sigler and Little at their Hillside Ct. residence. During the interview with Sigler, he initially denied being at the altercation or having any weapon. He then told the officers that he had a weapon, but that it was a BB gun. After further interviews, Sigler allowed the officer to search the vehicle, which was inside of his garage and the officer found the shotgun with both the barrel and the stock of the weapon cut off to make it shorter. The gun also had the serial number ground off.
Little was arrested and charged with one count of Simple Battery (M1).
Sigler was arrested and charged with one count each of Possession of a Short-Barreled Shotgun (F2), Alter/Remove Serial Number from Firearm (F3), Possession of an Altered Firearm (M1), Discharge a Firearm in Public (M1) and Resisting Officer Without Violence (M1).
Both Sigler and Little were booked into the Polk County Jail.