Update:  PCSO Detectives have made contact, located, and ensured Kelli Alderman and the two kids are safe.
A judge in GA has rescinded the original court order granting the father custody of the children. The family is no longer missing and the case is closed in Polk County.
Deputies seek missing mom and kids
Polk County Sheriff's Office detectives are looking for 39-year-old Kelli Rae Alderman and her two male children; 9-year-old Sid Large who has brown hair, brown eyes, weighs 85lbs and approximately 4″ tall; and 5-year-old Ace Large, who has brown hair, brown eyes, weighs approximately 35 pounds and is about 3″ tall. The children are considered endangered.  They have been court ordered to be returned to their father, Dennis Hagood of Homerville Georgia. Mr. Hagood has a court order from both Georgia and Polk County, Florida to have custody of the children.
Kelli Rae Alderman was last seen at the Court House in Bartow yesterday, March 21, 2017, around 3:00 p.m., where she was ordered to turn over the children to their father. Alderman is suspected to be driving a 2016 gray Toyota Corolla, with Georgia tags: RFT6238.
Alderman was last known to be living at her mother's residence located at 8292 Lake James Drive, Lakeland.  She recently lived in Georgia. Alderman's mother is 73-year-old Faye Louise Adams. Detectives checked Adam's residence, and neither Alderman, the children, nor Adams were home.
Adams is known to drive a 2010 gray Lexus ES350 Florida tag, HBXS56. The Lexus is also missing from the home.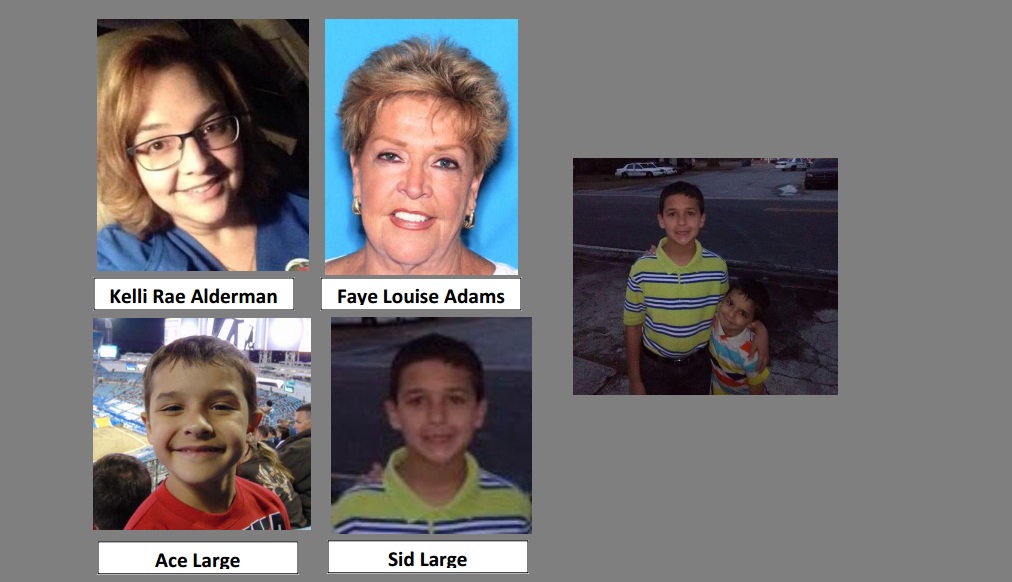 If anyone has any information regarding the whereabouts of Alderman, the children, or Adams, please contact Detective Maria Sorensen at 863-287-7441 or the Polk County Sheriff's Office at 863-298-6200.