Vehicle Crash at SR60 and Central Ave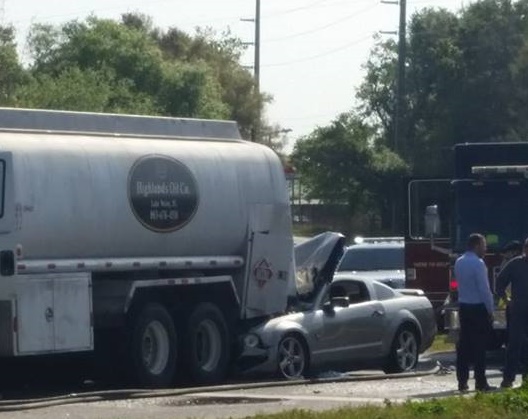 On March 9, 2017 at 9:00am officers from the Lake Wales Police Department responded to a crash involving 2 vehicles at the intersection of SR60 and Central Ave.
During the investigation officers learned James Jackson, a 54 year old Lake Wales resident, was driving a 2013 International fuel truck westbound on SR60. Jackson stopped his fuel truck in the outside lane of SR60 at the railroad crossing just west of the intersection of Central Ave. Kristopher Perry, a 31 year old Bartow resident, was traveling in a 2009 Ford Mustang westbound on SR60 in the outside lane.
For reasons yet to be determined Perry did not change lanes to go around Jackson nor did he stop before he collided into the back end of Jackson's vehicle.
Jackson was shaken but he did not require medical attention at the scene of the
crash. Perry sustained serious injuries and was medically treated on scene by the Lake
Wales Fire Department and Polk County Emergency Services. Due to the extent
of Perry's injuries he was airlifted from the scene and flown to Lakeland Regional Medical Center where he is listed in critical but stable condition. Perry is being charged with careless driving and driving while license is suspended or revoked.
SR60 westbound was closed and traffic was rerouted during the investigation. The
traffic was rerouted from 9:00am until approximately 1:20pm. Officer Ed Palmer is the lead investigator on this crash. Anyone having information about this crash can reach Officer Palmer at (863) 678-4223 extension 532.