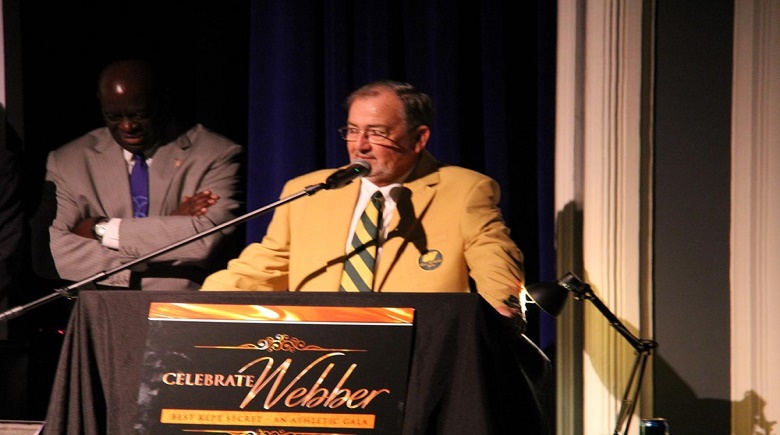 BABSON PARK, Fla. – Bill Heath has announced that he will be retiring at Webber International University, in Babson Park, Florida. Heath is in his 13th year as Athletic Director at the NAIA University and his last day in that capacity will be on February 13th, 2017. Heath's last day at the University will be on May 5th. Heath has served two different stints at Webber during his 30 year career: 1982-1985 and 1990-2017.
"My time at Webber has been a fantastic ride and I am truly honored to have served the University in various capacities over the years. I have served three Presidents: Dr. Buck Cleven, Mr. Rex Yentes, and Dr. Keith Wade. I sincerely thank them all for the opportunities they gave me, and I respect them for their patience and support of me throughout the years." Heath has been inducted into two Halls of Fame. He was inducted into the Polk County, Florida sports Hall of Fame in 2013. Heath was honored in 2016 as an inaugural member of the Webber International University Athletics Hall of Fame. "I was very touched to be inducted into these Hall of Fames and I have to say that my former players, my family, and my peers were an unbelievable part of the success that I had during my years in coaching" said Heath.
Heath has served Webber in many capacities through the years. He was men's and women's head tennis coach for 21 years, head volleyball coach for 9 years, head softball coach for 1 year, head women's basketball coach for 1 year, interim head men's soccer coach for 1 game and assistant men's basketball coach for 3 years.
Heath was honored often during his coaching career at Webber. He was the Florida Intercollegiate Athletic Conference tennis coach of year in 1990-91. He was named as the NAIA District 7 volleyball coach of the year in 1992 and Florida Sun Conference volleyball coach of the year in 1992-93. In 1994-95 he was the Sun Conference men's tennis coach of the year. In 1996 he was again the Sun Conference coach of the year for men's tennis. In 1996, Heath was honored by Webber as he was the recipient of the Cal Cramer Athletic Service Award. Again, Heath was named coach of the year in 1997 for men's tennis in the Florida Sun Conference. In 1998, the Sun Conference named Heath coach of the year.
Heath has also served the NAIA on the national level in the following: NAIA national men's tennis rater for 11 years, national women's tennis rater for 4 years, and NAIA/ITA national awards chair for 5 years.
Heath has had many special milestones since his time at Webber began. Heath was an assistant coach for men's basketball and the Warriors won the National Little College Athletic Association men's basketball National Championship in 1983-84.
Heath took his tennis teams to the NAIA National Championships numerous times, 11 with men's teams and 6 with the women's teams. Heath has served as a head varsity coach in 1,310 varsity games or matches. His overall record for all sports that he coached at Webber is 776 wins and 534 losses. Men's tennis alone was 383 wins and 152 losses.
Heath had numerous job responsibilities at Webber while he was coaching. They were: Student Union Manager for 1 year. Director of Admissions for 2 years, Co-director of student-activities for 6 years, Assistant Sport Information Director for 2 years, Sport Information Director for 6 years, Concessions Manager for 6 years, Public Relations Director for 10 years and Cheerleading coach for 1 year.
"I have had a long and very interesting career at Webber. I am very appreciative of every second that I have been here. My biggest support through all of these years has been my wife, Stella. She is an avid supporter for Webber International University! I love her and she has been my rock and my biggest supporter. We are a team! Also, our four children grew up at Webber and they have been great supporters too. Thank you Heath Family!" Said Bill Heath.
Webber International University and Webber Athletics thanks Bill and family for all of the years of service!