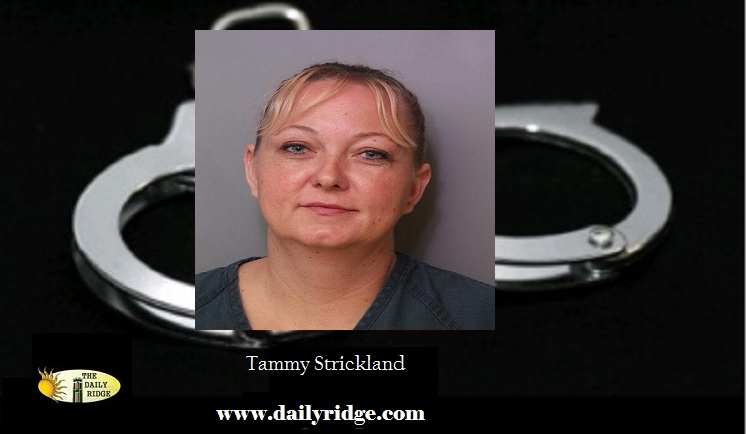 Polk County Sheriff's Office detectives have added more charges to Ms. Tammy Strickland, the "Grinch" who filled out fraudulent applications for non-existent children to receive toys from "Toys For Tots."
84 additional felony charges have been added (82 counts of Create/Use/Possess Counterfeit /Fictitious Identification, 1 count of Grand Theft, and 1 count of Scheming to Defraud) and 13 additional misdemeanor charges for Providing a False Statement. The 84 new charges relate to 13 fraudulent Toys For Tots applications she submitted to the organization in 2015. Detectives have determined that at least 13 of the 15 applications she submitted in 2015 were for fake children and families–13 fictitious adults and 69 fictitious children. The previous charges were for the fake applications she submitted in 2016. Ms. Strickland is now facing a total of 248 felonies and 41 misdemeanors.
As a reference, below is the previously sent news release (Tuesday, December 20th):
Christmas Grinch is in the Polk County Jail
12.20.2016
"Children in need. Toys for Tots.' These things are synonymous with Christmas.  And sadly, in this case, so is the Grinch.  Tammy Strickland spent a long time filling out fraudulent applications for non-existent children to receive toys.  And when she arrived at the Toys for Tots' warehouse to collect those toys, this Grinch was arrested.  Now she'll be spending a lot of time in jail."
38-year-old Tammy Strickland of Eagle Lake was arrested on Monday, December 19, 2016, charged with Grand Theft (F3), 28 counts of Providing False Statement to Obtain Credit/Property (M1), Obtain Property by Fraud (F3), and 164 counts of Create/Use/Possess Counterfeit /Fictitious Identification (F3).
On November 16, 2016, the Polk County Sheriff's Office received information regarding Strickland indicating she had kept toys from "Toys for Tots" intended for children in need in the Eagle Lake area.  Strickland is a former volunteer for the widely known charitable origination.
Detectives began investigating Strickland's association with "Toys for Tots" and learned Strickland submitted a large number of applications requesting assistance from the organization on behalf of dozens of children.
In review of the applications, detectives found the following information: Strickland was listed as the "contact person" on each of the applications. Other standard information listed on the applications are: the parent or guardian's name, last 4 of the parent or guardian's Social Security Number (SSN), primary contact phone number, and home address. On the back of the application were children's names, the last four digits of Social Security Numbers, and the gift each fictitious child wished to receive.
Using law enforcement resources available to them, detectives researched the family information on the applications and learned the applications were counterfeit.
Detectives learned Strickland used 140 fictitious children's names, and 28 fictitious adult names on falsified "Toys for Tots" applications.
Acting in an undercover capacity, detectives arranged to meet Strickland at the "Toys for Tots'" warehouse on Monday in order for her "to collect the donations for the children on the applications."  Strickland arrived at the warehouse shortly after 10:00 am, and with the help of several family members accompanying her, Strickland loaded the toys on a utility trailer.  She was taken into custody, arrested, and transported to the Polk County jail without incident.  Strickland's vehicle, a 2005 Cadillac Escalade was seized.
Detectives served a search warrant as Strickland's home and found 118 unwrapped toys still in their packaging. A witness in the home said the toys were from "Toys For Tots." Detectives determined that Strickland submitted "Toys for Tots" applications during 2015 as well.  Those applications are currently under review for authenticationseveral have already been determined by detectives to have been fictitious. The investigation is ongoing & other charges are possible.
Strickland's criminal arrest history is: 05/12/2016 – PCSO, Leave Scene of Crash with Property Damage; 08/24/2013 – PCSO, Battery DV; 03/11/2006 – PCSO, and Felony Battery Result with Bodily Harm Disability.
*During 2016, "Toys for Tots" provided services for 8,942 children representing 3,349 Polk County families. To learn more about "Toys for Tots," please visit http://toysfortots.org.