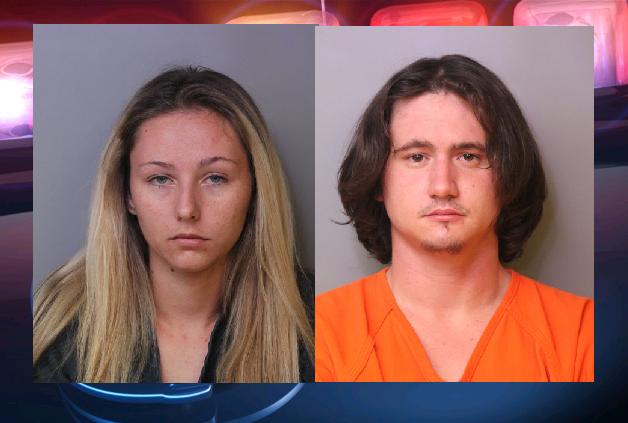 Lake Wales, Florida – On 11/23/2016 the Lake Wales Police were called to the FYE store in the Eagle Ridge Mall. A suspect had been apprehended by a store associate and some citizens after he robbed the safe in the store.
According to reports Zachery Dority (DOB: 12/17/1993 of Lake Wales) and Amber Carter (DOB: 7/9/1998 of Lake Wales) allegedly conspired together to rob Carters former employer. Carter allegedly would call the store associate with a ruse to give Dority a chance to get behind the counter. Around 12pm Carter began contacting store associate Tabatha Luna regarding some personal property that she had left at the store. Carter was sitting outside in her vehicle while contacting Luna. After several calls Luna finally agreed to look in the back of the store for the former assistant mangers personal property. When Luna went to the back room Dority allegedly went behind the counter and accessed the safe with a code, allegedly furnished by Carter. Luna however quickly came back to the counter and discovered Dority and confronted him. He then allegedly struck Luna and shoved her into a wall to make good with his escape. Luna however remained vigilant and with the assistance of citizen's was able to tackle Dority until Mall security apprehended him.
Carter allegedly went into the mall and demanded that Dority be released as he did nothing wrong. An independent witness relayed information to police about Carter allegedly being involved and she was also taken into custody. Both suspects had vehicles on the private property and after they were officially trespassed from the property they were towed from the scene. Prior to being towed officers completed a custodial inventory of each vehicle as part of the towing process. Both vehicles allegedly had illegal narcotics and stolen property in them.
Both suspects were transported to Polk County Jail.