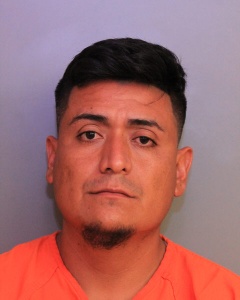 Haines City, Florida – According to a Polk County Sheriff's Office arrest affidavit On October 26, 2016 deputies arrested Jose Hernandez Cati for Aggravated Stalking Follow/Harass/Cyber-Inj/Death & Attempted 1st Degree Murder. According to reports Jose Hernandez Cati allegedly began stalking vitim, Leoncio Gonzalez-Herandez, on 10/10/2016. The victim alleges that he began receiving text messages from who he thought was Mireya Soto, a girl he had been talking to. The victim stated he realized the text messages were not being sent by Mireya Soto, but were being sent to him by her husband, Cati. The victim stated he went to Soto and Cati's residence, N. 30th St. Haines City, to talk to Cati. When the victim arrived he was allegedly approached by Cati with a firearm. The victim allegedly became scared and fled on foot. Cati allegedly began to chase him allegedly firing multiple shot's at the victim. One particular shot allegedly ricocheted on the ground next to him. The victim successfully fled the scene.
According to reports Cati allegedly send text message threats to the victim.
On 10/11/2016 the messages were "I see you, I'm watching you, you run like a chicken, your days are gonna come".
On 10/15/2016 the messages were "Ha Ha Ha you're stupid, this time you escaped, not next time, your days are gonna come".
On 10/17/2016 the messages were "Every turkey has it's Christmas".
On 10/18/2016 the messages were "Keep doing what your doing, you son of a bitch".
On 10/19/2016 the messages were "Right behind you"
On 10/20/2016 the messages were "You son of a bitch"
The victim went on to explain that allegedly two times he observed the suspect following him. The victim stated he was in fear for his life and the safety of his family.
A warrant was issued for Jose Hernandez Cati and served on October 26, 2016. Bond was set at $250,000. A court preceding for reduction of bond will take place on November 3, 2016 at 12:44pm. At this time Cati remains in Polk County Jail.