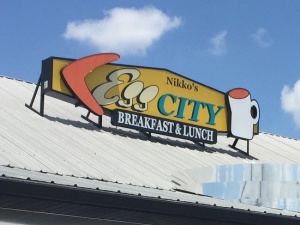 By Carl Fish
Haines City, Florida – A local restaurant has come under fire after a racial slur was allegedly left by either the manager or owner on a former employee's voicemail. The restaurant is Nikko's Egg City, 35510 US-27, Haines City, FL 33844.
Walter Boarders says he let his employer know he was going to be out of work for his "auntie's funeral", which was last Tuesday. He was scheduled to work on Wednesday, but was still grieving and text his boss he wouldn't be in. His boss in turn called and allegedly left him a voicemail.   The voicemail can be heard on this facebook post video recording of of voicemail.  Here is the entire voicemail in question "Walter man you are the dumbest fu***** ni**** I every met in my life. You piece of S***.". A second voicemail message was also left for Walter after a friend of his posted the video of the first email on facebook. Here is what was contained in the second voicemail message "Hey Walter, I'm going to call social security disability on your fu***** A** you fu***** punk. Cause you are a piece of s***. Okay I let you work here five times at least and five times you didn't show up. You stupid motherfu****. I'm calling social security on your dumb A**. So you can go fu** yourselves. Your a fu***** punk. That's why you had  scholarship to college and you chose the streets instead you dumb A** motherfu****.". According to Boarders the man on the phone is named Jerry. He couldn't tell us his last name.
Another phone call allegedly by Jerry was to Boarders mother. The call was allegedly to have Boarders remove the voicemail post off facebook. Allegedly Jerry threatened Boarders life if the post did not come down. This was a live conversation between Boarders mother and without any recording.
The DailyRidge.com called and spoke with Jerry, who would not tell us his last name either, unless we came to see him face to face. He referred to himself as the manager not the owner.  During our conversation "Jerry" admitted to making the first call. He apologized for calling Boarders the N word. He would go on to say some other unsavory things about Boarders, but we advised we had already heard about them from his other voicemail he left the former employee.
The video of the alleged voicemail call has been viewed over 12,000 times and shared over 350 times in 24 hrs. According to comments on the article more than one previous employee has had issues with Jerry with Egg City. A photo is posted in comments which is a screen capture from an alleged text message which also shows racial slurs. You can view that particular photo here: Text From Bossman . The alleged text from "Jerry" the manager of the Nikko's Egg City reads "What's it feel like to know you'll die a broke a** n*****". The phone number associated to text was called and answered by "Jerry".  He declined to talk unless in person. 
Due to this being revealed future plans for Haines City Parks & Recreation Breakfast with Santa may be changed. We have contacted the City of Haines City for comment, but they have not responded as of this time.
According to Walter Boarders a Sheriff's report has been filed regarding the alleged threats against his life. He provided a case number and deputy involved in the investigation. We will update this article as soon as we have more information these allegations.
*Editors Note: It should be noted that according to Sunbiz corporate filings this particular location was sold last year. Details currently are not available on exactly who is  the owner of Nikko's Egg City. Calls to other local business have revealed that all the other Egg restaurants (Egg House, Egg Station, Egg City, etc…) are not owned by the same people. According to one local owner the restaurants were originally owned by cousins, but they do not know who all current owners are at this time.  The Nikko's Egg City does not appear to be related to any other local restaurant in Polk County under the same or similar name.