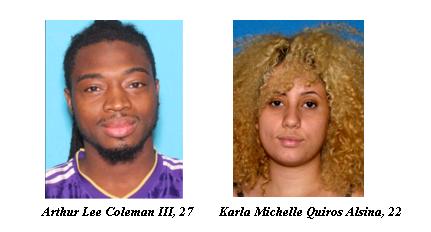 Update Monday, October 17, 2016: According to reports the two remaining suspects Arthur Lee Coleman III & Karla Quiros Alsina have been arrested in Ga. According to reports they were taken into custody by the Orange County Sheriff's Office on October 16, 2017. We are currently waiting on information coming from the Orlando Police Department regarding the arrest.
—–
Orlando, Florida – This afternoon the Orlando Police Department briefed the media regarding arrests of two suspects and the warrants for the arrest of two additional suspects involved in sex trafficking & the death of a 14 year old teen.
Two men were arrested in connection with the murder and human trafficking of a 14-year-old girl, Orlando police said.
Avorice Jeno Holman, 19, and Jose Ignacia Santiagosotomayor, 22, face charges of first-degree murder, human trafficking of a child, procuring a minor for prostitution, racketeering, and possession and transmission of child pornography.
Both are charged with nine counts, including: first degree murder, human trafficking of a child, procurement of a child for prostitution with death and possession of child pornography.
The victim and her 15-year-old sister were allegedly trafficked for eight days starting on Aug. 8., according to arrest warrants. On Aug. 14 the victim was taken to Orlando Regional Medical Center were she was pronounced dead.
Police are still looking for two people also believed to be involved in the case, Karla Michelle Quiros Alsina, 22, and Arthur Lee Coleman III, 27.
Anyone with information about the two suspects still at large should call Detective Fields at 407-246-2979.