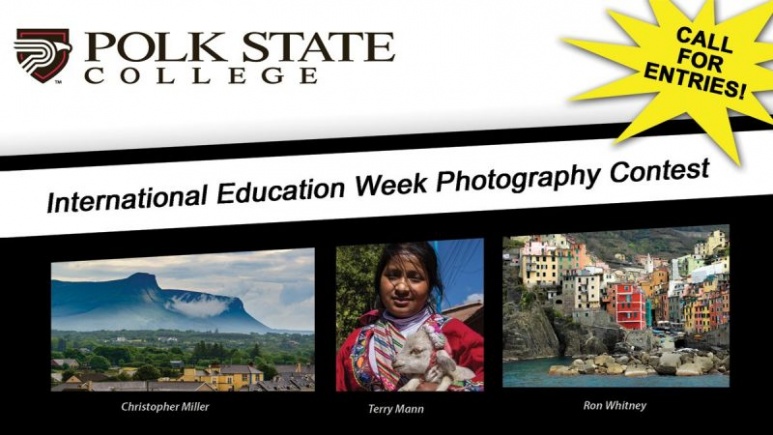 Submitted By Polk State College
Winter Haven, Florida – Polk State is once again accepting entries for its annual Capturing Cultures Photography Contest.
The College began the contest in 2014 to both celebrate the work of local photographers and showcase unfamiliar perspectives and experiences.
"Each year, we're getting more and more interest not just on campus but throughout the community in Capturing Cultures. It's a wonderful way to share cultural experiences, whether they've taken place in faraway lands or right here in Polk County, and there is nothing quite like seeing the world through someone else's eyes — or rather, lens," said Program Coordinator Kim Simpson.
"This contest nicely complements the College's array of international initiatives, in that it offers access to new ways of seeing the world — not just for the few moments you might spend looking at a photograph on the wall, but long after you've left the exhibit."
Capturing Cultures entries may illustrate domestic or international travel, cultural events or activities, landmarks — or other subjects that help others experience ways of life different from their own, Simpson said.
Polk State College students and employees may submit up to three images for free until 5 p.m. on Sept. 30. After that date, and for all those unassociated with the College, the entry fee is $10 per image.
The submission deadline is Oct. 17. For an entry form and further instructions, email [email protected]
Polk State's Global Initiatives Committee will judge the photos based on illustration of cultural exchange and how well the contestant embraced the theme, "Capturing Cultures."
Winning images will be announced and awards will be given during a reception from 5 to 7 p.m. on Nov. 17 at the Polk State Lakeland Art Gallery, 3425 Winter Lake Road.
The Capturing Cultures exhibit will be displayed at the Polk State Lakeland Art Gallery from Nov. 3-Dec. 9. Hours are Monday-Thursday from 10 a.m. to 2 p.m. Admission to the gallery is free.
Polk State College's international initiatives include a growing selection of study-abroad and internship opportunities, as well as the Global Studies Program, which includes courses designed to foster international awareness.