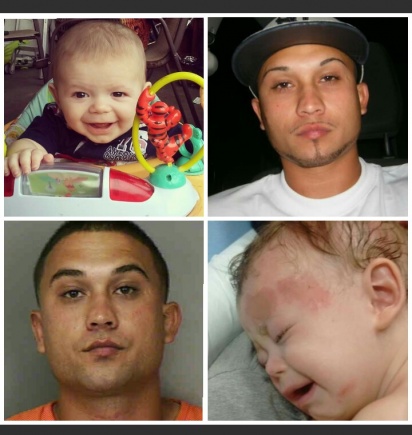 Polk County, Florida – On 09-16-2016 at approximately 4:30pm an 11 months old (victim) was left in the care of a suspect, Shawn Tucci (28 years old). The victim's mother left the child with Tucci and went to work. According to the Polk County Sheriff's Office at 10:11pm the victim's mother allegedly received a phone call from the suspect. The suspect advised he was holding the victim and tripped causing the victim to fall to the ground. According to reports the suspect told the victim's mother that he tripped in the kitchen of the residence and the victim landed on the carpet rug in the living room. The suspect advised the victim's injuries were not bad and said the victim just skinned his face and had a knot on his head.
At approximately 10:45pm, the victim's mother left work early to check on the victim. According to reports upon arrival, at the residence, she observed a large amount of blood on the victim's bouncy seat. She advised the suspect continued to allege he only dropped the victim. She said she took the victim to the hospital due to the severity of the injuries.
Lakeland Regional Health's Medical staff advised the victim's injuries were not consistent with a fall. The victim was observed with following injuries:
1)Severe open bleeding laceration on the right rear of the victim's head.
2)Four small lacerations on the left rear of the victim's head
3)Burns on the left forehead and temple of the victim's face
4)Bruising on the victim's left jaw
5)Bruising on the victim's right hand
6)Bite mark on the victim's left triceps
7)Bruising on the victim's feet
8)2nd degree burns on the victim's scrotum and penis
The victim was transported to Tampa General due to burns on the victim's genitals.
Deputies attempted multiple times to locate and interview the suspect about the victim's injuries but the suspect could not be located.
A warrant was issued for violation of FSS 827.03(2)(A), AGGRAVATED CHILD ABUSE (F-1).
Shawn Tucci was arrested yesterday by Tampa Police Department on a Polk County Warrant, and is currently housed in the Hillsborough County Jail. He will be transferred to the Polk County Jail sometime this week.