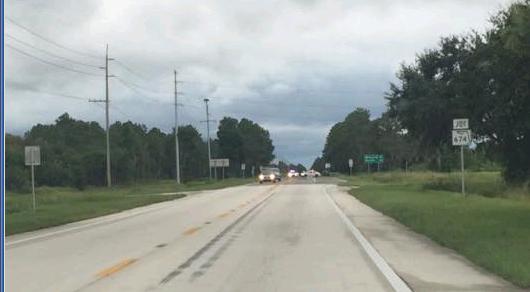 Polk County, Florida – Polk County Sheriff's Office Traffic Homicide deputies responded to a double fatality during the late afternoon hours on Tuesday, August 30, 2016.
The crash occurred at approximately 5:15 pm on State Road 37 approximately ¼ mile south of Radar Road in Mulberry.
Through the initial investigation, it appears 52-year-olde Terry T. Townsend of Whisper Lake Drive, Winter Haven, lost control of his 2013, black Dodge pick-up truck on the wet road.  After losing control the pick-up began to rotate counter-clockwise and entered into the southbound lane of travel.
At the same time, a 2006, white, Chevrolet pick-up, driven by 38-year-old Henry Roque of Adams Road, Fort Meade, was traveling south on SR 37, with his passengers, 20-year-old Elvia Andrea Contreras de dios, of Evergreen Drive, Lake Wales and 45-year-old Josefa Jarquin of Shady Oak Avenue, Lake Wales.  The front of Roque's pickup struck the right front of Townsend's pickup at an angle as Townsend's pickup was rotating across the road.
A third vehicle, a 2013, white Honda Civic, driven by 25-year-old Manishkumar R. Patel of Washington, was also southbound on SR 37 and directly behind Roque's pickup with his passenger 22-year-old Payl Mistry, also of Washington.  Patel attempted to avoid the two pickup trucks but was struck and also began to rotate counter-clockwise into the northbound lanes.
A fourth vehicle, a 2007, gold Infinity FX35, driven by 27-year-old Jiles Scott Sullivan of West Wellington Drive, Lakeland was northbound and behind Townsend's pickup truck and saw it begin to slide prior to the crash.  Sullivan slowed and started to pull off the east shoulder when Patel's Honda crossed into the northbound lanes and struck the driver side of the Infinity.  After impact, the Honda spun onto the east shoulder, facing west.  Roque's pickup rotated onto the west shoulder facing north.  Patel's Honda came to final rest on the east shoulder facing west approximately 150 feet south of the initial impact.  The infinity slid along the east shoulder and came to final rest facing north.
Roque's pickup had significant intrusion into the driver's compartment and Townsend's pickup had severe damage as well.
Polk County Fire and EMS responded and determined Rogue and one of his passengers, Jarquin, were both deceased.  Roque's other passenger, Contreras de dois, along with Townsend were transported to Lakeland Regional Health as trauma alert patients.
Neither Patel, his passenger Mistry, nor Sullivan had any injuries.
Weather and wet roads combined with speed may have been a factor in this crash.  Impairment does not appear to be a factor and distracted driving is being investigated.
Roque was wearing a seat belted, but neither of his passengers, Jarquin or Contreras de dios, appear to have been seat belted.
The airbags in Roque's pickup did not deploy.
It is unknown at this time if Townsend was seat belted, but the front airbags did deploy. The occupants of the other two vehicles were all seat belted and no airbags deployed.
SR 37 was closed for approximately 5 hours during the course of the investigation. Heavy rains caused some delays in the investigation.
The investigation is ongoing.