Baked Buffalo Chicken Dip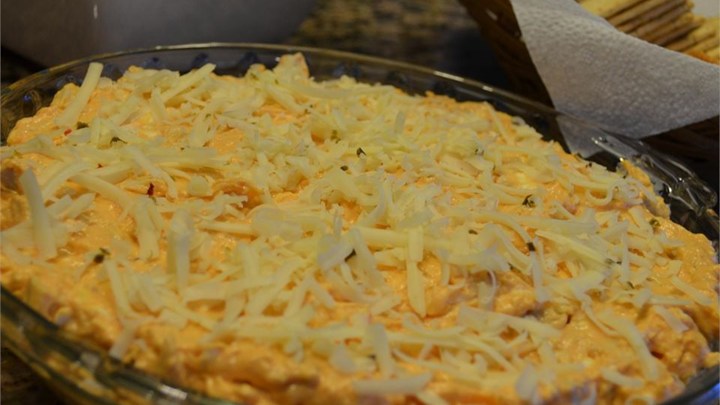 Ingredients
3 cups diced cooked rotisserie chicken
2 (8 ounce) packages cream cheese, softened
3/4 cup hot pepper sauce (such as Frank's RedHot®)
1/2 cup shredded pepper Jack cheese
1/2 cup blue cheese dressing
1/2 cup crumbled blue cheese
1/2 teaspoon seafood seasoning (such as Old Bay®)
1 pinch cayenne pepper, or to taste
2 tablespoons shredded pepper Jack cheese
1 pinch cayenne pepper, for garnish
Add all ingredients to list
Prep 15 m

Cook 15 m

Ready In 30 m
Preheat oven to 400 degrees F (200 degrees C).

Combine chicken, cream cheese, hot pepper sauce, 1/2 cup pepper Jack cheese, blue cheese dressing, crumbled blue cheese, seafood seasoning, and cayenne pepper in a large bowl.

Transfer chicken mixture to a 9-inch round baking dish and sprinkle with 2 tablespoons pepper Jack cheese.

Bake until lightly browned, 15 to 20 minutes. Remove from oven and garnish with cayenne pepper.