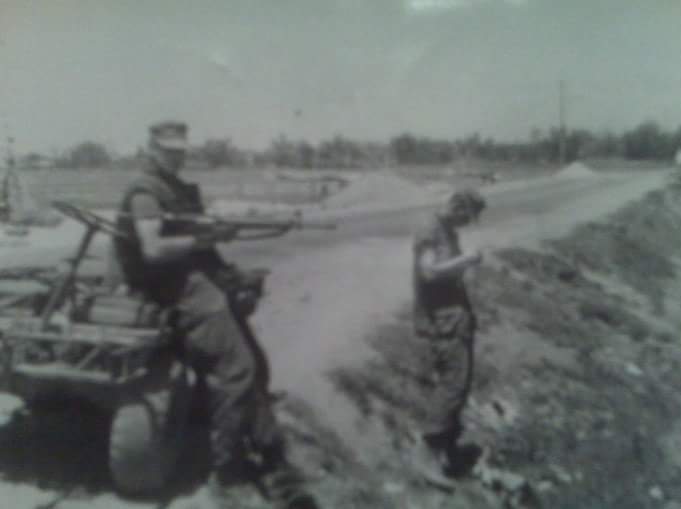 By Carl Fish
I will forever remember Memorial Day because of the service my family showed in the military. My brother LCPL Joseph Kenneth Fish "Jody" as he affectionately called by friends and family was made of patriotic material. Having a father, Winston Elrick Fish, who served proudly in World War II it was often drilled into our head the need to stand up for what was right. So after graduating from a catholic high school my brother Jody entered into the United States Marine Corps. His length of services started on Mar 16, 1967 and fatefully ended February 19, 1968.
"Jody" penned a letter to his father on the back of a picture shortly before he died. The picture is above:
Hi Dad,
How's everything? I'm fine, still kicking with both legs when necessary. From what I hear they have been keeping you pretty busy back home. Same here, never a dull moment. The picture was taken about a month ago, they are short of wiremen so I went out as a security guard. The wiremen are fixing the line that had been gutted during the previous nite. Two hundred yards in back of the tree line is a 15 foot wall of sand, other side of that is where I call home. I'm in my fourth month now, be home before I know it. Hope everyone's in good health, please write when time permits.
Your loving son, Jody
As the note states, Jody, was a volunteer. According to reports from soldiers with Jody he was killed, by sniper fire, while helping out another company. Most reports have Jody being killed in Phu Bai, but he was actually with Bravo Company ("Mill B") and died in Hue. Jody died two week before he was to ship home.
Please take the time and remember those who paid the ultimate sacrifice.