More Easter Egg Hunts in Polk County
Lake Kissimmee State Park Easter Egg Hunt
March 26, 11:00 a.m. – 1:30 p.m.
Bring a basket and hop on down to Lake Kissimmee State Park to join us for our annual Easter egg hunt! There will be prizes awarded to winners in each age group: 2-4 years, 5-8 years and 9-12 years. Kids can enjoy carnival games before and after the hunt as well. Children between 2-12 years old are welcome to help hunt over 1000 hidden eggs. For more information, call 863-696-1112. Regular park entry fees apply.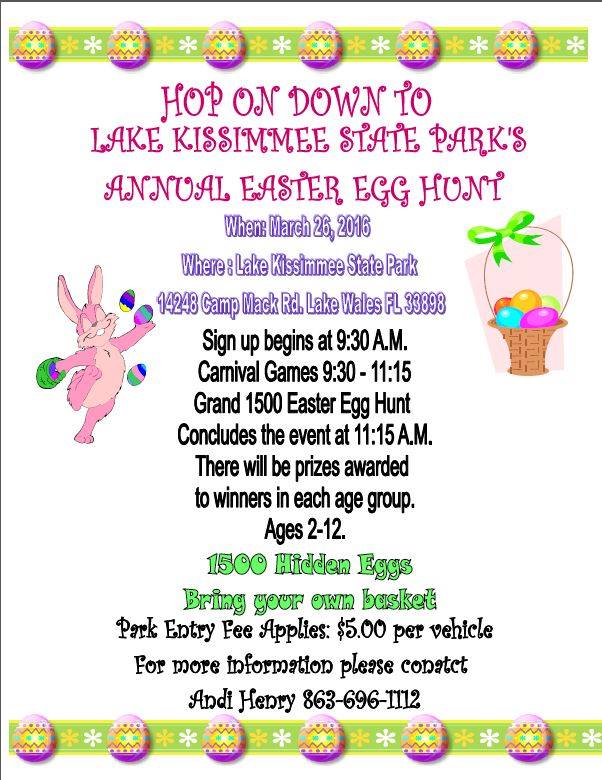 First Presbyterian Church of Lakeland Easter Egg Hunt
March 26, 9:30 a.m. – 11:00 a.m.
Search for Easter eggs on the front lawn of First Presbyterian Church of Lakeland at 175 Lake Hollingsworth Drive.
Haines City Leisure Services Easter Egg Hunt
March 26, 10:00 a.m.
Haines City will host their 32nd Annual Easter Egg Hunt at at Larry Parrish Field on Johnson Avenue.
City of Winter Haven's Hoppin' Hunt
March 26, 10:00 a.m. – Noon
This event will feature an egg hunt, live music, kiddie train, face painting, food trucks and a visit from the Easter Bunny. All activities are free for kids ages 0-9. Hoppin' Hunt will be hosted at Martin Luther King, Jr. Park at 250 South Lake Silver Drive, NW.
Beeping Easter Egg Hunt Lake Alfred
Lake Alfred Lions Park, 175 N. Nekoma Ave., Lake Alfred
Saturday, March 26 at 1 p.m.
The Lake Alfred Lions Club is holding a beeping Easter egg hunt meant for blind children. Every blind child will receive an Easter gift, and there will be pizza and hot dogs after the egg hunt for all the children.  The Easter Bunny will be there so bring your camera!
Lake Alfred Lions Club
Our Annual Easter Egg Hunt is almost here… yay yay! All children are invited under the age of 10 to our hunt on Saturday, March 26th at 10:00 AM. We have hundreds of Easter eggs to hunt and great prizes to win! And… the Easter Bunny will be there! Mom's and Dad's be sure to take your camera for fun pictures of your child with the Bunny! Our hunt is located at the Lake Alfred Lions Park 175 N Nekoma Ave., Lake Alfred. We will see you there!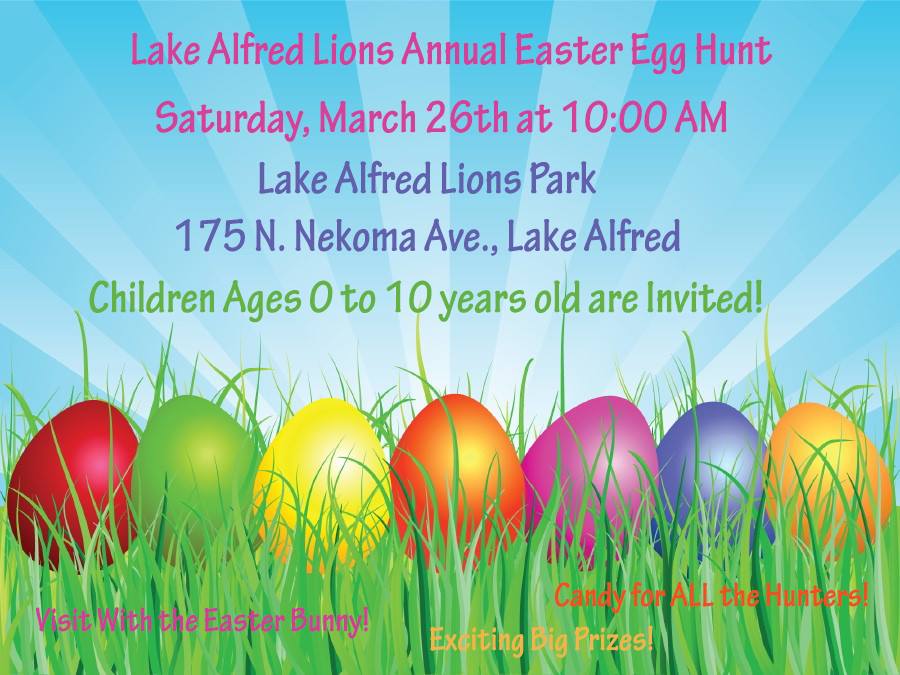 Frostproof
Family Life Church – Frostproof's 21st Annual Largest Egg Hunt – March 26 at 10am Sharp!