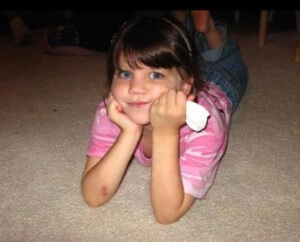 Lake Wales, Florida – "I always knew it could happen, but never thought it would happen to my child" said Donna Hayes of Lake Wales. The mother of four children has had her world turned upside down. Approximately two weeks ago she found out her little girl, McKinze ( 7 yrs old) had a diagnosis of  myelodysplasticsyndrome ( formerly known as preleukemia). Currently the doctors are testing McKinze to determine what type of leukemia is attacking her body. She currently in need of the communities help to replenish blood supplies as she is getting blood transfusions regularly.
McKinze went to the doctor for what her mother thought was an unrelated medical issue. After some tests and then a CBC (Complete Blood Count) it was determined that she needed to go to Arnold Palmer Hospital in Orlando. Since the diagnosisher blood count has been dropping. Yesterday, September 18th, McKinze received another round of platelets because her count was extremely low  (a normal count is 250-450; she was an 8). The family would appreciate it if everyone would donate blood. McKinze is O Positive but any blood type is accepted. Please do not let your blood type keep you from donating. What happens is when people donate any type of blood the Florida Blood Bank will credit her bank with O positive blood. She  has already received 3 blood transfusions and will need more, in addition to a bone marrow transplants.
Myelodysplastic syndrome (MDS) is the name of a group of conditions that occur when the blood-forming cells in the bone marrow are damaged. This damage leads to low numbers of one or more type of blood cells.
We will be keeping up with McKinze and her treatment and ask that everyone say a prayer for her and her family. Please donate blood if you can to a Florida Blood Bank near you.