2023 Central Florida Comic Con Morphs Up For Power Ranger-Centric Year
by James Coulter
"Go, Go Power Rangers!" to Lakeland this weekend for a real "morphin time" at Central Florida Comic Con. This year's event, hosted at the RP Funding Center, will include not one but three Power Rangers: Steve Cardenas, Nakia Burrise, and Jason Faunt.
These three actors will be one of the 22 guests in attendance to meet fans, take photos and autographs, and speak about their experiences performing their roles on the Power Rangerstelevision show.
Furthermore, this year's Central Florida Comic Con will also be hosted in dedication to the memory of Jason David Frank, the original green and white ranger who tragically passed away last year. As its website states: "We want everyone to remember the love and support that JDF poured into the fan community."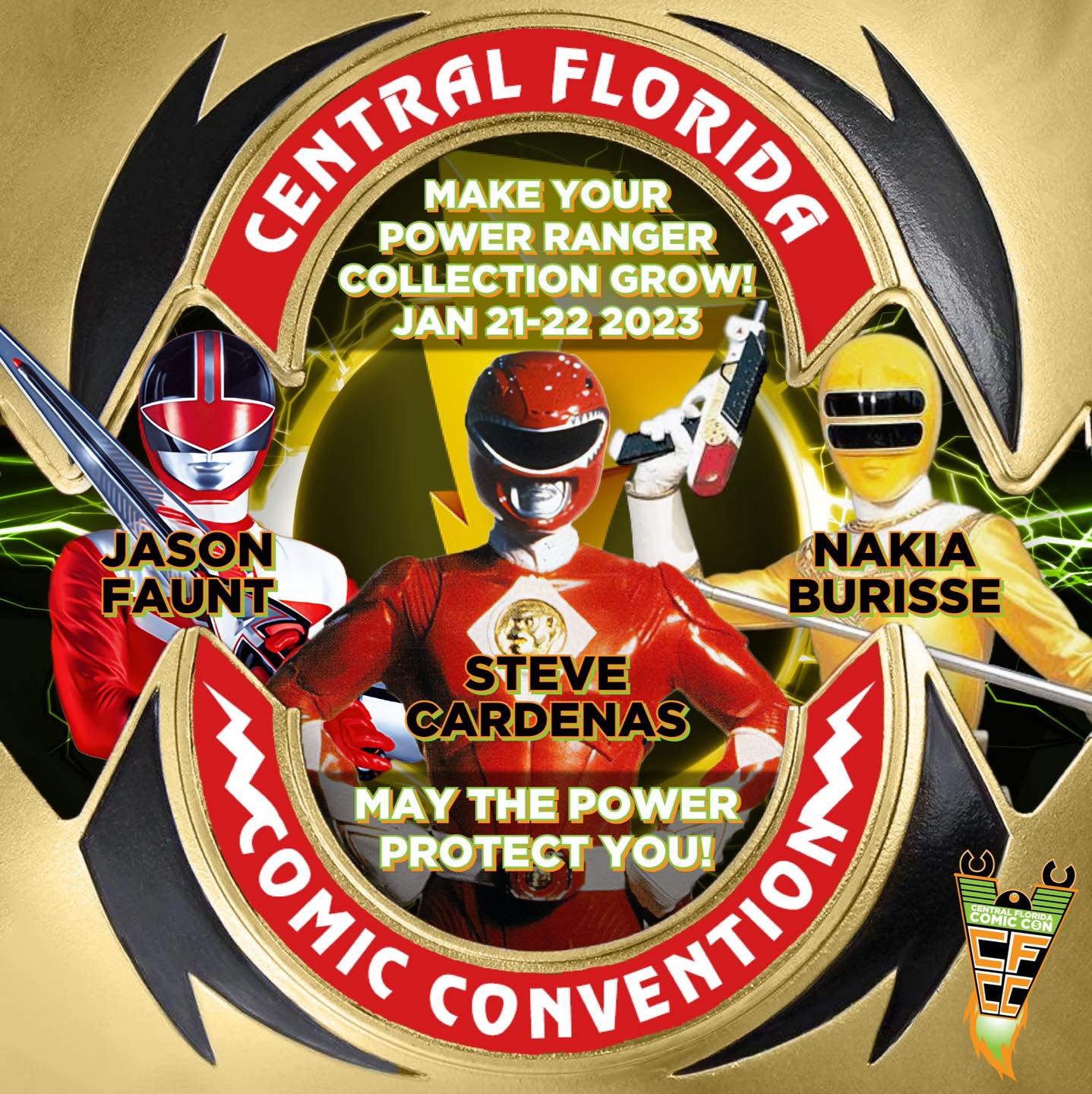 Power Rangers will be one of the many popular franchises represented at Lakeland's annual two-day comic book convention. Fans, geeks, and nerds alike will be able to gather to celebrate their love of their favorite comic book, movie, television, and video game franchises with cosplay, vendors, and special guest stars.
Aside from three Power Rangers, this year's attendees will also be able to meet Vincent Martella and David Errigo, Jr., the voice actors of Phineas and Ferb from the hit Disney Channel animated series, Phineas and Ferb.
On Saturday only, attendees will be able to meet and greet comic creators Amanda Conner (Harley Quinn, Supergirl) and Jimmy Palmiotti (Harley Quinn, Painkiller Jane).
Other special guests during the weekend include:
X-Pac (2x WWE Hall of Famer)
Sonny Strait (Voice actor for Dragon Ball, One Piece, & Fullmetal Alchemist)
David Matranga (Voice actor for My Hero Academia, Attack on Titan, Angel Beats, & Fairy Tail)
George Lowe (Voice actor Space Ghost, The Brak Show)
For the full guest list, visit: https://www.centralfloridacomiccon.com/guests
For nearly a decade, Central Florida Comic Con has been Lakeland's premier comic convention. Ben Penrod, the promoter of CFCC, started the event utilizing his experience of attending and hosting other conventions in the past. He wanted to bring his own convention to Central Florida, and it has grown immensely ever since.
"This year's CFCC is going to be our fifth event, and we wanted to make sure that it would be the biggest edition yet," Penrod said. "We've expanded to two huge rooms of exhibitors, artists, and celebs, and we've also added more panels than ever before! The fans in Central Florida have really taken to this event and we're just giving that energy back to the fans. They keep asking for more and we just keep growing the show!"
He owes its success to the event being hosted as a big town event in a small-town environment. Admission is also ensured to be affordable for everyone, especially families, which helps draw in a good crowd, he said.
"We are really lucky to have some amazing fans who have supported us every year, and told their friends and brought their friends in," he said. "We work really hard to make sure our con is super fun and that we deliver above expectations."
Central Florida Comic Con 2023 will be hosted on Sat., Jan. 21, and Sun., Jan. 22 from 10 AM to 4 PM at the RP Funding Center, located at 701 W Lime St. Lakeland, FL 33815. For more information, visit their website at: https://www.centralfloridacomiccon.com/