UPDATE 2
On Wednesday, November 9, 2022, Lake Wales Police Department teamed up with the Polk County Sheriff Office and the District 10 Medical Examiner's Office in an attempt to locate Ms. Debbie Williams, who has been missing since 1990.
Detectives, officers and crime scene investigators excavated the sand underneath the rumored residency, located at 108 Dr. J.A Wiltshire Ave. At the conclusion, no remains were found underneath the residence.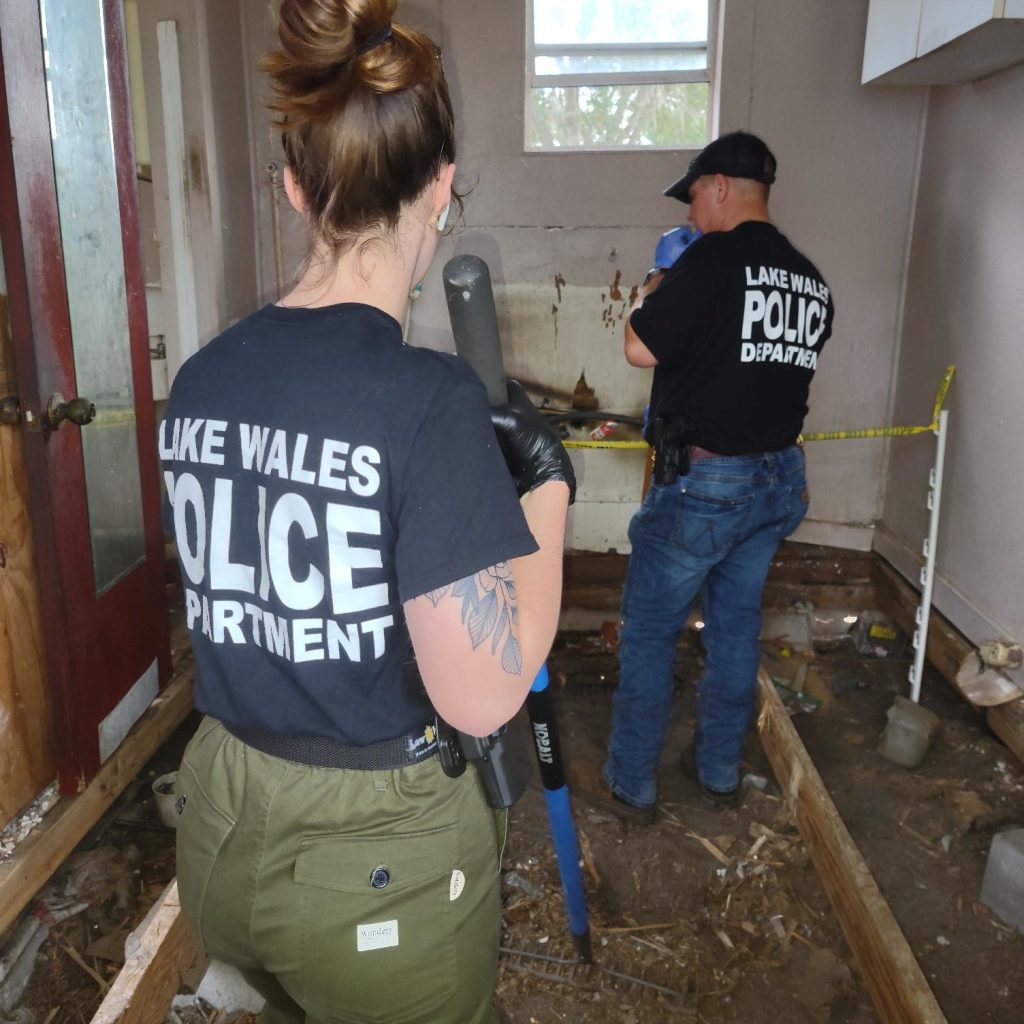 Lake Wales officials intend to continue the search. Plans include the use of ground penetrating radar (GPR). Proposed areas for the use of GPR include the lot the residence is located on and an additional area alongside US HWY 27. Detectives have partnered with a GPR specialist from the University of South Florida.
Detectives are also following up on other leads discovered in microfiche film dating back to the 90's. They have located a lead supporting the eye-witness testimony of Williams entering a white and red pickup truck driven by a Caucasian male at the time of her disappearance.
Deputy Chief David Black said, "Our detectives will continue to follow-up on factual leads and eye-witness testimony."
Aggressive progress has been made by Lake Wales Police Department after a resident arranged for cadaver dogs to search the land around the residency. One hotspot identified by the dogs was beside a tree that rooted underneath the house. Officers dug into the root ball from inside the house, which happens to be the same room Williams was rumored to be buried under the floor.
Detectives contacted Julie Starbuck, K-9 handler for Peace River K-9 Search and Rescue and discussed the results of the search. Starbuck stated cadaver dogs find the odor of human remains, which can be generated in a multitude of ways, and does not necessarily indicate a body. She went on to say remains could be blood left behind from an injury or when dead or dry skin flakes off a body and decomposes.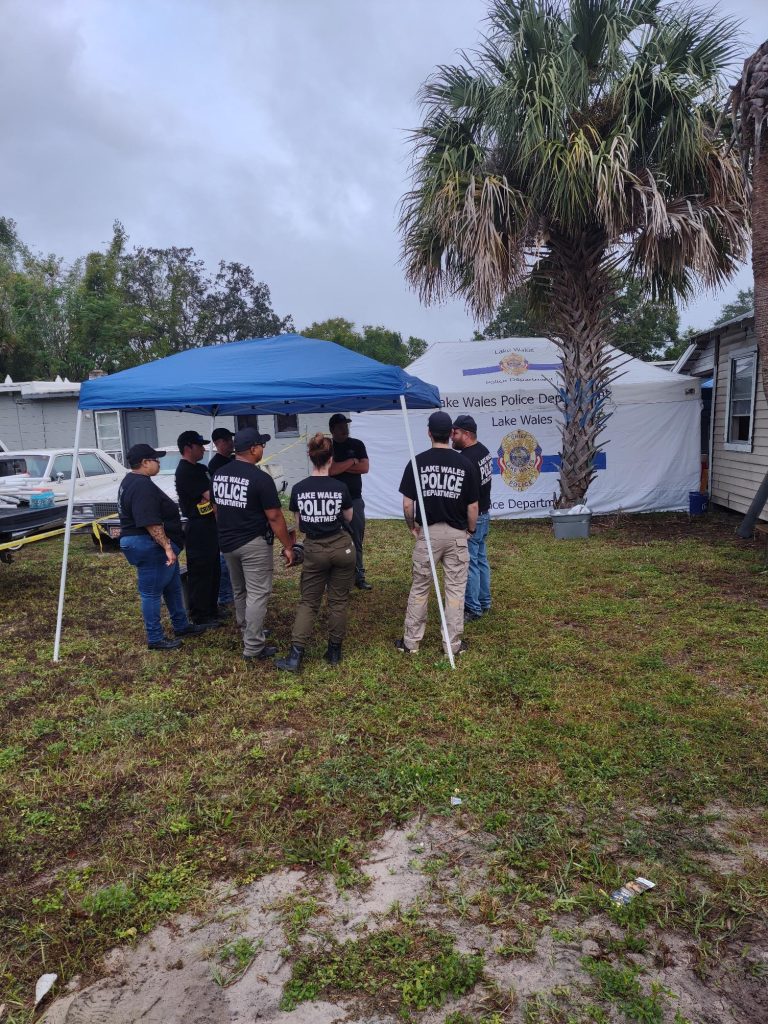 Prior to the excavation, SEMCO, a construction firm assessed the structural integrity of the residency. Flooring was removed from the house to make room for officers to excavate the sand underneath the residency and run it through sifters. More than 20 officers and city staff engaged in the search.
UPDATE 1
Heartland Crime Stoppers is offering a reward up to $5,000 for any information, which leads to locating Debbie Delores Williams.
Police are asking anyone with information to contact Detective Ricky Hartwell at 863-678-4223. Or, if you would like to stay anonymous and be eligible for a CASH REWARD through Heartland Crime Stoppers:
· Call 1-800-226 TIPS (8477)
· From your cell phone, dial **TIPS
· Visit the website www.heartlandcrimestoppers.com and click on "Submit A Tip,"
· Or download the free "P3tips" app on your smartphone or tablet.
COLD CASE INVESTIGATION
In late March 1990, Debbie Williams was reported missing by a family member. At the time of the original report, it was estimated Debbie had been missing for approximately four weeks. Detectives have been left with a single partial page initial report to go on.
In 2019 Melvin Waldron, a retired Lake Wales Supervisor, came to Detectives with information regarding Williams' case. The information included rumors Williams had been killed by her on again, off again boyfriend who has since passed away. The rumors were she was buried beneath the boyfriend's residence or near the overpass of Highway 27 near Florida Natural. At that time, a Detective was assigned to accompany Waldron to conduct interviews with people Waldron believed had direct information on the case. A total of nine people were interviewed regarding the case and only one person had any direct information. This person observed Williams getting into a white and red pickup truck driven by a white male around the time she disappeared. The other eight people all stated they heard various "street talk" over the years saying she was buried under the house, or she was buried under the bridge, or she got into a white truck driven by a white male, never to be seen again.
Detectives then went to the residence in question to investigate the possibility Williams was buried there. An officer dressed in protective equipment went under the residence using a metal rod to probe the area for remains. Bones were located in the area Williams was rumored to be. Those bones were examined by the medical examiner's office and confirmed to be animal bones. No large scale digging was done as there for safety of the officer and the structure itself.
The current owners of the residence are not suspects in any way and have been nothing but cooperative in this case and great care must be taken with their property.
The Lake Wales Police Department is networking with the Lake Wales Building Department, Planning and Zoning, and house moving companies to ensure the residence can be safely moved and any potential crime scene preserved. The move of the residence will be done as Building Partnerships for a Safer Community soon as possible but due to logistics that date is yet to be determined. Detectives have been in contact with USF for ground penetrating radar, so that once the residence had been moved a search can be conducted. If the ground penetrating radar indicates the possibility of remains, a dig will be conducted at that point.
The Detectives in charge of this investigation have met with experts and investigators from the Florida Department of Law Enforcement, State Attorney's Office, and Polk County Sheriff's Office who have all pledged their assistance in this case. We have also been in contact with the Federal Bureau of Investigation (FBI) regarding advancements in DNA collection and cataloging built to assist in matching missing persons with unidentified bodies found around the country.
Going forward, Detectives are working to rebuild the case file regarding Williams. This includes conducting interviews with those who knew Williams and the boyfriend. This proper documentation of the investigation will provide a thorough case file if Williams is not locate during these endeavors.
The Lake Wales Police Department is working diligently on this case and will exhaust all leads. Should Williams not be found during these searches, the department will follow up on any future leads which may develop hoping to find closure for the Williams family.
This investigation is ongoing.
If you have any information regarding this case please contact Detective Ricky Hartwell or Sergeant Shawn Smith at the Lake Wales Police Department at 863-678-4223. You can also remain anonymous by calling Heartland Crime Stoppers at 1-800-226-TIPS (8477).