Welcome, World Travelers! Chip 'n Dale: Rescue Rangers is Nuts! (Spoiler-Free Review)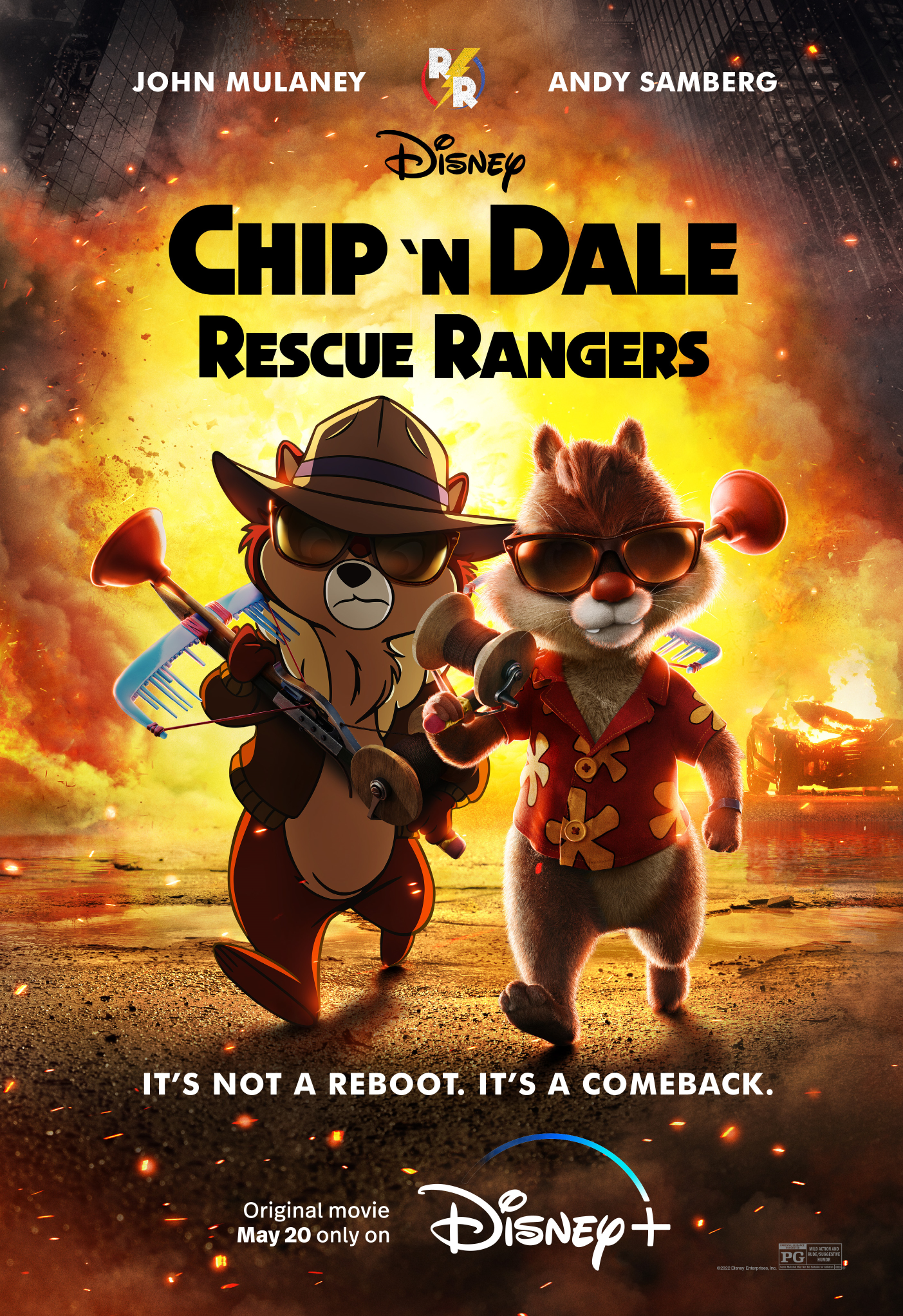 by James Coulter
As someone who grew up in the 1990s, I loved the Disney Afternoon. Every day after school, I would hop off the bus, turn on the television, and spend my free time watching cartoons like TaleSpin, Darkwing Duck, and Chip n' Dale Rescue Rangers. So I am the target audience for the Rescue Rangers movie. While the show was not my favorite (that honor belongs to Darkwing Duck), I was at least intrigued by a live-action theatrical adaptation.
And then the trailer was released earlier this year. And…well, it was certainly…something!
Chip was a 2D-animated character voiced by John Mulaney. Dale was a 3D-animated character voiced by Andy Samberg. They both resided in a live-action setting where people and cartoons live together like in Roger Rabbit—and Roger Rabbit is also in it! Other characters include those from non-Disney properties like My Little Pony, 2019's Cats, 2005's Beowulf. And, apparently, the villain is a character who looks like a middle-aged, overweight Peter Pan.
Again, the trailer was…something!
Most people had no idea what to make of the movie. Some assumed it would be awful. Others, like myself, hoped it would at least be so bad it's good. But now that it has officially been released on Disney Plus, how is the Rescue Rangers movie? Did these two gumshoes pick up the slack, or is this some crime that slipped through the crack?
In this movie, Chip and Dale reside in a live-action world where people and animated characters live together. They're both actors who played their respective roles in Rescue Rangers. After its cancellation, they had a falling out and went their separate ways. Nearly 30 years later, Chip is working as an insurance agent, while Dale has converted himself into a 3D-animated character who now makes guest apperances at fan conventions. Both former friends reunite following the disappearance of their co-actor, who has become one of many missing toons in a string of kidnappings. Can the two rekindle their friendship and solve this mystery?
Rescue Rangers is most evidently trying to emulate Who Framed Roger Rabbit by portraying animated characters in a live-action setting. To its credit, this movie surpasses Roger Rabbit in the technical aspect by incorporating characters of various animation styles including CGI, stop-motion, and even puppetry. This variety allows for many creative and clever scenes. One character is a police officer who is a stop-motion clay figure who uses his body to collect fingerprints and other clues. No spoilers, but he's later involved in a fight scene that truly utilizes the flexibility and pliability of his body in cleverand entertaining ways.
Disney could have easily utilized only animated characters from its official canon, yet like Roger Rabbit before it, this movie incorporates characters from other properties from other studios—some of which you would never imagine appearing in a movie like this. It certainly says something that adult animated shows like Rick and Morty, South Park, and Bevis and Butthead are referenced in a Disney movie, of all places!
Rescue Rangers is unafraid to push the boundaries of the Disney brand. While it manages to maintain its PG rating, and it never becomes too "dark" or "mature" for children, it certainly has plenty of adult humor and dark and gritty moments that nearly make you forget you're watching a movie that opened with the classic castle logo. No spoilers, but for a company that's highly protective of its brand integrity, Disney seemed perfectly fine portraying one particular legacy character from its classic canon the way it did in this movie. It was certainly an audacious choice, to say the least, if not a divisive one!
Unfortunately, despite spectacularly pushing boundaries, Rescue Rangers seems to toe the line with a standard plot and characters. Stripping away the "animated characters in live-action" gimmick reveals a standard buddy cop movie with equally standard character beats. Its mystery is solved halfway through the movie—and anyone who's seen the trailer can guess who the main villain is. There's an attempt at a bait-and-switchlater in the film, but the switch can be seen coming a mile away. Some of the meta jokes and commentary are cleverer than they need to be, but otherwise, the humor is quite mild.
Chip n' Dale: Rescue Rangers is not bad. It has too much effort and ambition to be bad. It not only wants to be like Roger Rabbit, but exceed it by pushing the technical and corporate boundaries of a Disney movie, yet none of its polish can add shine to an otherwise generic plot and characters. It's too good to be bad, but not good enough to be great. Overall, it's an otherwise entertaining movie.
My recommendation: this movie is best watched with a group of friends, preferably millennials (Gen X at the oldest, Gen Z at the youngest) who are old enough to remember the Disney Afternoon. This is a movie where watching other people's reactions to it only adds to the overall moviegoing experience. So invite a bunch of friends over, watch this movie together, and be prepared to hear people laugh, gasp, and exclaim comments like, "I can't believe that happened!"