Welcome, World Travelers! Encanto is Muy Encantada!
by James Coulter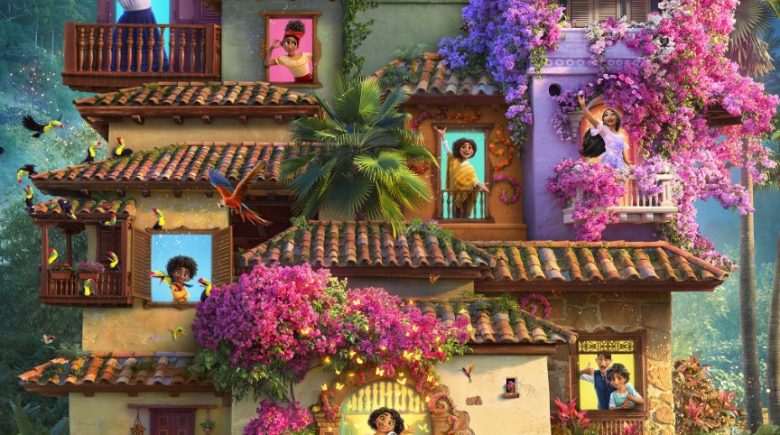 Encanto is Disney's latest animated feature, directed by the people who created Zootopia and Tangled, and with music composed by the acclaimed musician behind Moana and Coco. Honestly, that's all I have to say to promote the film. With a pedigree like that, Encanto essentially sells itself.
Encanto is about a young girl named Mirabel who lives in Colombia. Her family lives in a magical house and owns a magical candle that grants each of them a magical gift like super strength, super hearing, or the ability to shapeshift. Everyone has a magical gift—except her. However, one evening Mirabel receives a premonition about the magic fading away and the house crumbling apart. So to stop her family's home from being destroyed, she embarks on an epic journey—all without leaving her house!—to solve the mystery.
As I mentioned earlier, Encanto is a film that essentially sells itself. It's an animated movie by Disney, so you know the animation will be superb. It was created by the same directors who made Zootopia and Tangled, so the story and characters are evidently engaging. And the music is composed by the great Lin Manuel Miranda, so the songs are real toe-tapping earworms that will keep you humming their tunes long after you leave the theater.
By far, the soundtrack is the biggest selling-point of the movie. As always, Lin Manuel Miranda utilizes his extensive songwriting experience and proud Hispanic background to write Latino-inspired songs that absolutley slaps. That fact becomes quite apparent with the opening musical number, "Welcome to The Family Madrigal", which not only provides great exposition that introduces the main character and her extended family, but also revs up the audience for a good time.
Encanto stars a colorful cast of characters with different magical powers and personality quirks. Watching them bounce off of each other and especially the main protagonist is amusing. No spoilers, but my favorite scene involves all of the characters eating dinner together, where rising tensions and character conflicts created by the plot really allows them to clash with very colorful emotional sparks.
The main thing tying everything together is the story. A wise person on the internet once said that all good stories ask one question: "who am I?" Since the Animation Renaissance of the 90s, the best Disney movies have been character-driven stories about identity, about characters who feel out-of-place and who seek to discover their true selves. Ariel doesn't feel comfortable "under the sea", and she wants to be on land. Belle feels stuck in her poor provincial town, and she wants adventure in the "great wide somewhere." Mulan feels confined to her society's assigned gender roles, and she wants to be who she truly is inside.
Enancto essentially takes the subtext of these movies and makes it the text of the story. Mirabel's character arc is literally about her grappling with her own identity and how she, as a remarkably unremarkable person, fits in with her family of remarkable people with remarkable talents. Anyone who has ever struggled with not being the best can truly relate to her character.
In the end, she not only comes to terms with not being gifted, but learns to better empathize with her other family members and the struggles they go through living up to the great expectations hoisted upon them with their gifts. Two of the movie's biggest musical numbers involve two characters discussing the great pressure they face from everyone else because of their great gifts, with one character struggling to carry the weight on her shoulder, and another struggling to keep up her apperance of being "perfect."
In short, Encanto is truly an enchanted movie with the lively music of Coco, the character development of Wreck-It Ralph, and the family dynamic of Meet The Robinsons. (What? Am I the only one who remembers that movie?) Currently, the movie is playing in theaters, and is certainly worth a matinee viewing. However, it will be streaming on Disney Plus on Dec. 24, so it's also well-worth waiting until then.