Feb 18 update:
CONSTRUCTION UPDATE: The east bound lane on Martin Luther King, Blvd. will shift to the adjacent brick paver center lane, from 2nd St. NE to 5th St. NE as construction continues. Residents and businesses will have access to properties. Please contact the City of Winter Haven Streets Division at (863) 291-5852 for more info.
——————
City of Winter Haven Road Construction Update: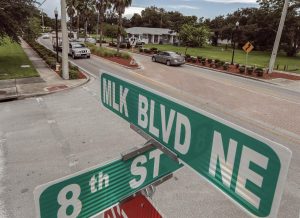 MLK Boulevard Road Construction Update! Anticipate eastbound lane closures on MLK Blvd. Sun., Feb. 16 & Mon., Feb. 17. Please use caution and watch for signs, flaggers and detours. Stop by and chat with the Public Works team at the Feb. 15 Heritage Day event at the Winter Haven Recreational and Cultural Center or call the Streets Division with questions at 863-291-5852.