LEGOLAND Florida Decks The Halls With Lego Bricks At Christmas Bricktacular
by James Coulter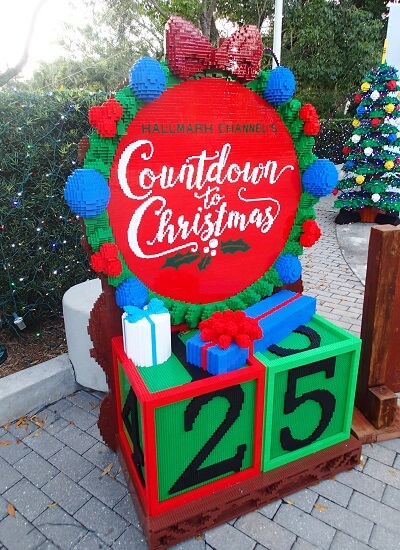 LEGOLAND Florida guests will be able to see plenty of red, white, and green—LEGO bricks, that is!—during its annual Christmas Bricktacular event all this month.
Presented by Hallmark Channel's Countdown to Christmas, this month-long event will allow children and adults of all ages to enjoy holiday fun with sweet treats, fun activities, and live entertainment, including a chance to meet the jolly old man in red bricks himself.
This year includes the all-new "Holly Jolly Jubilee" interactive show (presented by Wells Fargo) where guests can help Santa's elves prepare for the big day at Santa's workshop.
Once the sun goes down, the Christmas lights go up at the 30-foot tall LEGO Christmas tree during the nightly LEGO Christmas Tree Spectacular, featuring a flurry of falling snow flakes and a dazzling display of laser lights.
The Christmas activities will be hosted at the park on select dates every Saturday and Sunday, and from Saturday to Tuesday on the week of Christmas Day.
Here are some of the holly jolly family-fun that guests of all ages can look forward to at the park:
LEGO Christmas Tree Spectacular (5:45 p.m. to park closing)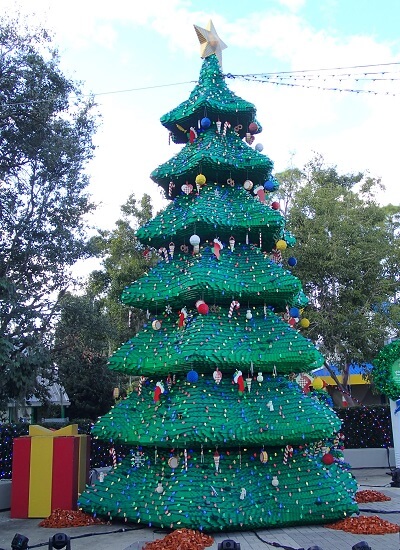 Rock around the 30-foot tall Christmas tree (or rather, the Brickmas tree!) as it lights up in a fantastic synchronized light show, complete with flurries of snow flake falling from the sky.
Santa Helper's Scavenger Hunt (10 a.m. to 6 p.m.)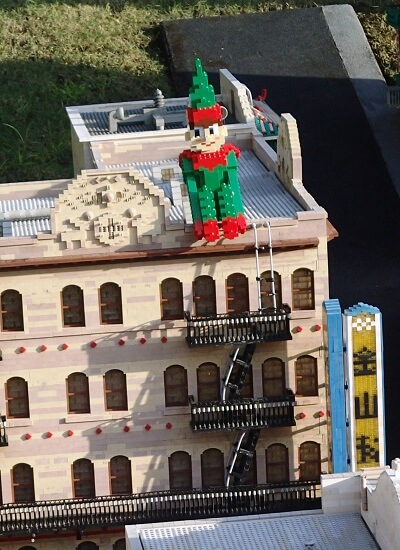 All throughout Miniland U.S.A., Santa Claus and his elves are appearing here and there and everywhere, especially on the rooftops. Keep a sharp eye out for them, and feel free to report their whereabouts for a chance to win the official contest.
Letters To Santa (11 a.m. to 4 p.m.)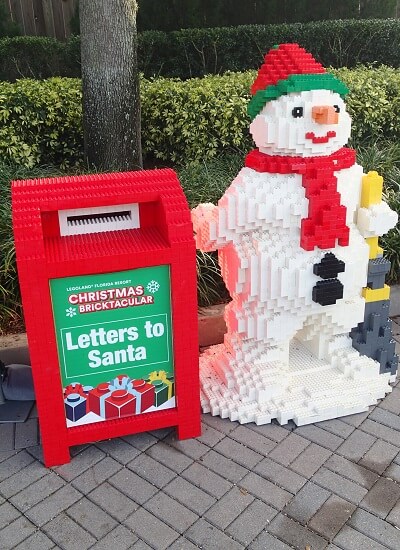 Whether you want a LEGO hippopotamus for Christmas, or if all you want for Christmas is your two front teeth, you can write your Christmas wishes for Santa in a letter and have it mailed straight to the North Pole in a LEGO mailbox.
Holidays Around The World LEGO Mosaic Build (Noon until completion)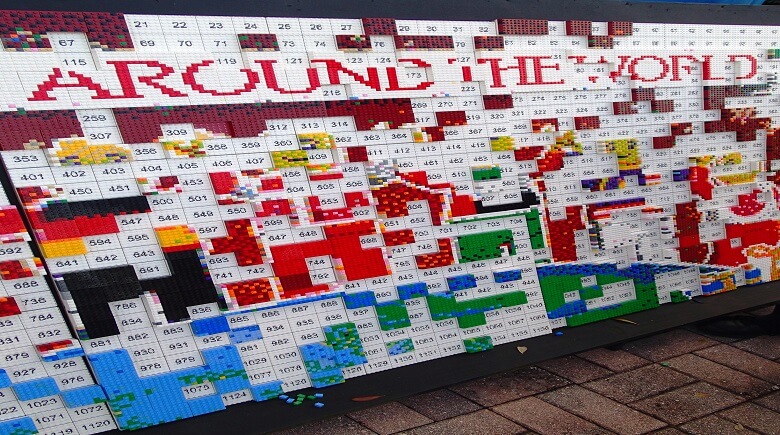 Christmas is a time to wish peace on earth and good will towards you fellow man. You can help do exactly that by creating tiles for the giant holiday mosaic wall as a way to offer greetings around the world.
Holiday-Themed Competition Build (Noon to 6 p.m.)
Deck the halls with bricks of holly and let your imagination run wild by creating your own holiday-themed LEGO sculpture, and enter it in for a chance to win.
LEGO Christmas Tree Build (Noon until complete)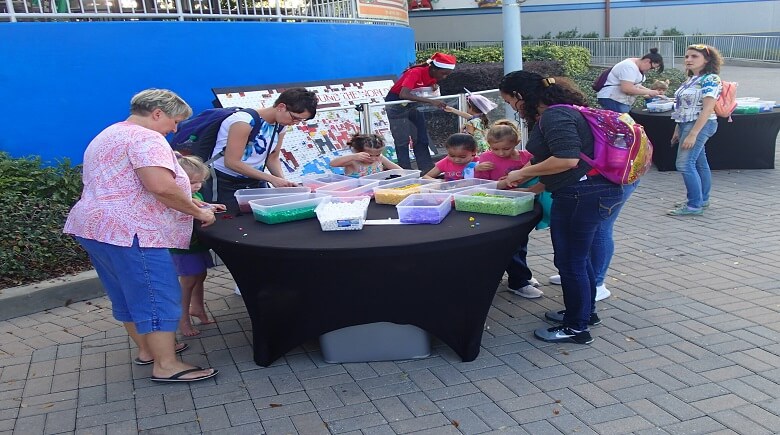 Oh Christmas tree, Oh Christmas tree! How beautiful are your green LEGO bricks! If you want a chance to build your own LEGO tree, then try your hands at it by helping out other model citizens construct one from scratch complete with LEGO ornaments.
Holly Jolly Jubilee (1:30 p.m.; 3:15 p.m.; 4:30 p.m.)
Santa's elves are preparing to ship out all of the toys for the good girls and boys, and you can help them out in this all-new family-friendly interactive stage show.
Meet LEGO Santa (10:30 a.m. to 4:30 p.m.)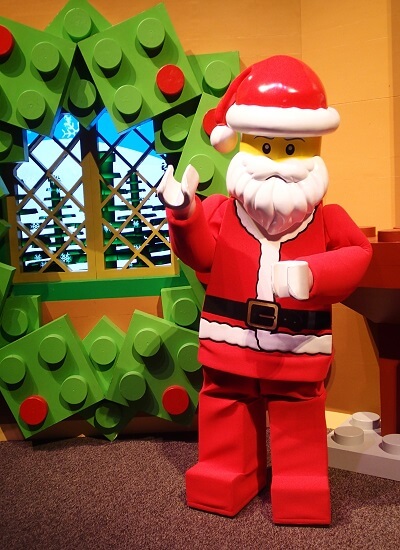 Have you been naughty or nice this year? If you've been nice, feel free to meet Old St. Nick—or rather, Old St. Brick—himself and take a photo with him.
Meet LEGO Toy Solider (10 a.m.; 11 a.m.; Noon; 4:30 p.m. 5:30 p.m.; 6:30 p.m.)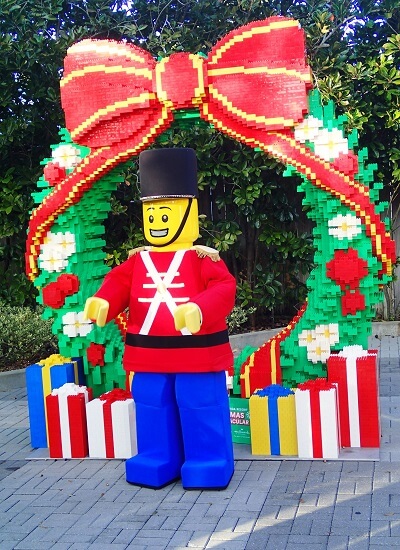 When he's not busy guarding Santa's workshop, this LEGO toy soilders will gladly go off-duty to meet and greet children for photo opportunities.
LEGOLAND Florida is located at 1 Legoland Way, Winter Haven, FL 33884. For more information, visit their website at: https://www.legoland.com/florida/