George Jenkins High School student arrested for bringing handgun to school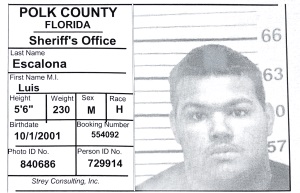 PCSO Release:
A 17-year-old student was found in possession of a loaded firearm at George Jenkins High School today.  Preliminary investigation shows that student Luis Manuel Escalona (17) had a 9mm handgun that he was concealing in his backpack. School personnel received a tip that Escalona had a gun in his backpack and the Sheriff's Office School Resource Deputy immediately responded to Escalona's classroom and detained him.  During a search, the 9mm handgun was found in his backpack along with an extra loaded magazine. Escalona has admitted to possession of the firearm, adding that he recently found the weapon off school grounds.
Escalona has been charged with Possession of firearm on campus, possession of firearm with altered serial number, possession of a firearm by a juvenile and disruption of school function. He is being transported to the Juvenile Assessment Center. He has a previous criminal arrest history for 2 burglaries of residence, grand theft, and petit theft.
"We have an absolute zero tolerance for weapons of any kind at school. I thank the tipster who alerted the school to the gun and commend the school personnel and our deputy for acting quickly and decisively." -Grady Judd, Sheriff
"The safety of our students and staff is always paramount. In this incident, our students did exactly as we instruct them to do  they saw something and they said something. Then, our staff immediately followed procedures and contacted law enforcement. Our partners at the Polk County Sheriff's Office responded swiftly and thoroughly, which allowed us to resume normal operations as quickly as possible  and with the assurance we were doing so in a safe learning environment. I commend our students, staff members and law enforcement partners for working together to keep our schools safe." Jacqueline M. Byrd, Superintendent of Schools