The Winter Haven Fire Department is taking a big step in the protection of firefighters regarding chemical contamination that is critical in reducing the potential risk of cancer.
A 2015 study by NIOSH (National Institute for Occupational Safety and Health) indicated that Firefighters have 9% higher risk factor for cancer diagnosis and 14% higher risk of dying from cancer, compared to the general population.
Post Fire Decontamination Kits have been obtained from the University of Miami through a grant that will play an integral role in preventing the cancer risk that firefighters face. Numerous studies have shown that the cross-transfer of organic compounds from fighting a fire is elevated even though the surfaces of the skin are mostly covered.
The neck and hands are most prone to the exposure of contaminates, but consider this; firefighters have the gear they wear and take off after the event. The exposure to toxic contaminates continues if decontamination is not addressed while on scene. Otherwise, residue is transferred into the truck ultimately leading to the station and finally into the home.
"The gear of our firefighters is decontaminated to ensure toxic substances do not accumulate", said Public Safety Director Charlie Bird. "Ensuring firefighters' health and safety on scene through these decontamination kits for the individual is vital and we are excited to have received the kits."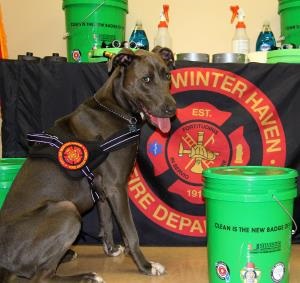 (Photo: Wesley, the Winter Haven Fire Station pup is proud to have received the decontamination kits for his firefighters.)