Lakeland Concert Band Began 40th Season With Veteran's Day Concert
by James Coulter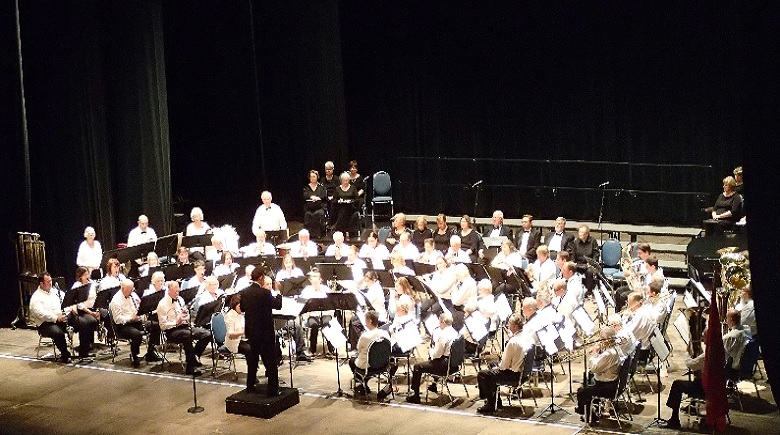 The Lakeland Concert Band received the most patriotic start for its upcoming 40th season with a concert honoring local veterans in Lakeland on Sunday.
Hosted within the Youkey Theater at the RP Funding Center, the free concert lifted patriotic spirits with performances of traditional patriotic songs and classic American popular songs.
Proving to be a true all-American performance, the concert honored both Americans within the United States and Canada, opening with the national anthems of both countries, and including medleys of each country's armed forces.
During the performance of the Armed Forces medley, each military branch was honored with the flying and posting of their respective flag as carried by members of the local Boy Scouts Troop 760.
To further honor past and present military members, audience members who were retired military members were encouraged to stand to attention when their respective branch's medley was played and their flag was being flied and posted.
The final flag flown and posted was that for military prisoners of war and missing in action (POW/MIA). No theme music played for that flag, with only a moment of silence followed by the playing of Taps.
The concert came to a climatic conclusion with the performance of John Phillip Souza's "Stars And Stripes Forever", which stirred enough patriotic fervor within the audience that members began waving their plastic American flags along with the music.
Prior to the show, guests were entertained by performances from The Licorice Sticks, a local clarinet ensemble, as well as a pre-show provided by Clogging Connection of Plant City, a 35-year-old clogging organization honored with multiple national and world titles and awards.
Within the lobby, an art show was provided, allowing guests to peruse the artwork of Julie G. TerHaar, a local art teacher, and the woodwork of the Chain-O-Lakes Carving Club.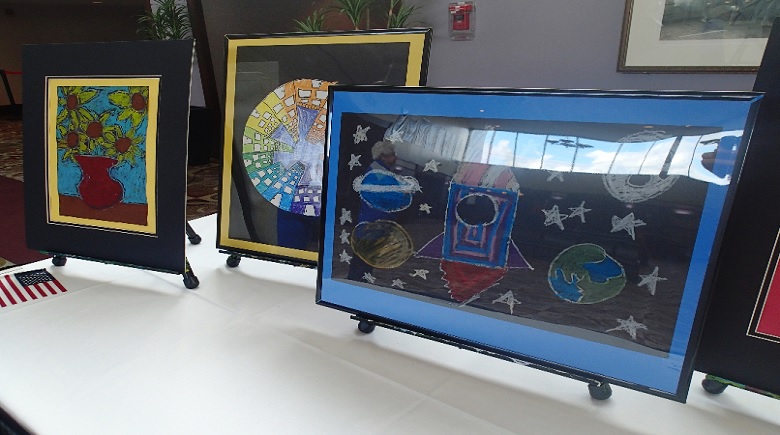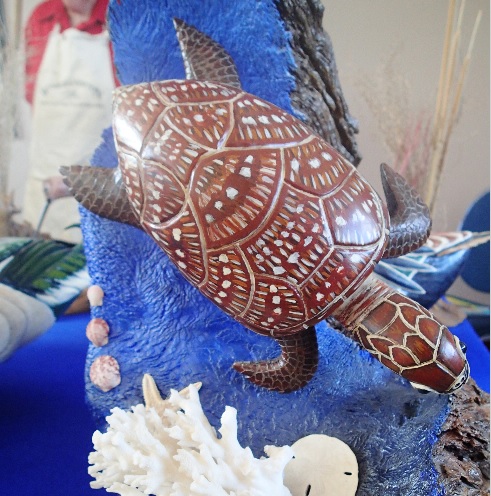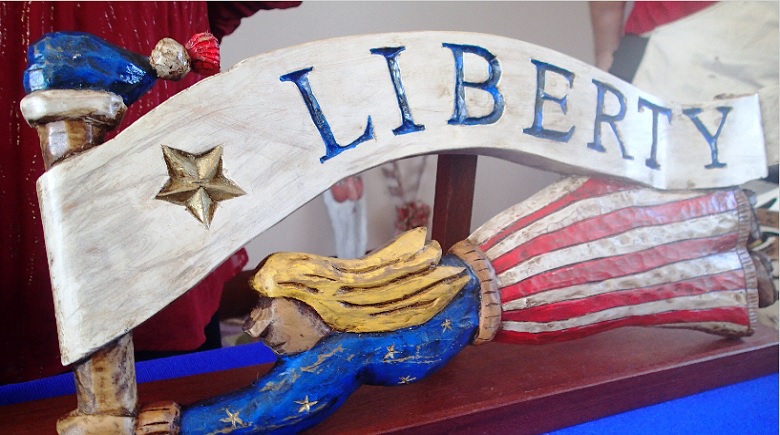 The concert served to kick off the Lakeland Concert Band 40th season, with more free concerts planned for the Youkey Theatre at the RP Funding Center in Lakeland and the Branscomb Auditorium at Florida Southern College.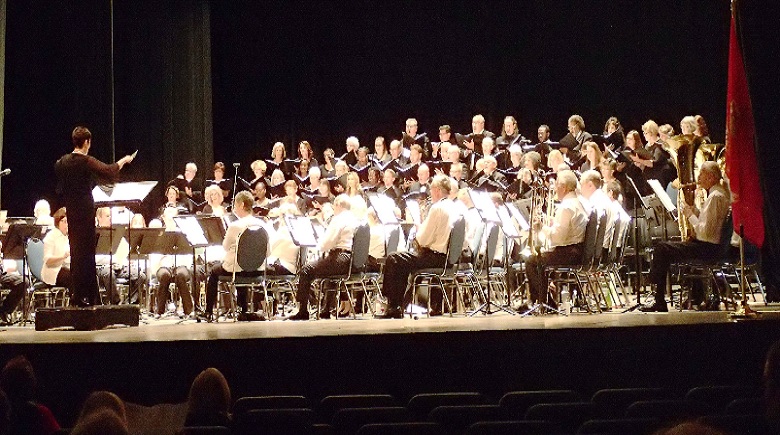 "We take great pride in honoring all of our veterans and their service to our country," said Vikki Jackson, a publicity team member whose own father served within the Air Force.
Of the hundreds of members who played within their opening performance, 15 of which were retired military members. One such member was Col. Connie Canfield, an army nurse who helped present the POW/MIA flag that day.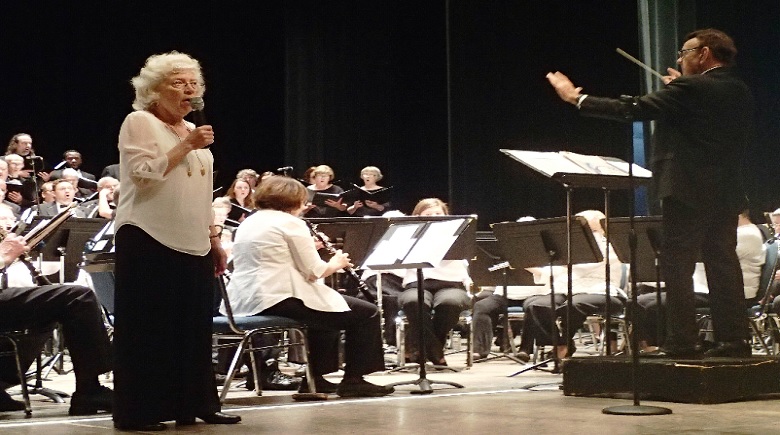 The Lakeland Concert Band provides music through many of their free concerts with the aid and cooperation of the Lakeland Chorale Society, led by their director, Beth Cumming.
Cummings brings with her 27 years of musical education experience, including 11 years within the school system as a Director of Fine Arts, and having been past president of the Polk Arts Alliance and Florida Music Educators Association.
Coordinating and cooperating with the band can be quite the challenge, but it is one that she and her chorus take on well, and for which they are very well rewarded with fine concerts such as this.
"If you were not patriotic before you got here, you will be once you leave," she said. "It was packed with great patriotic music, and we enjoy singing with the band."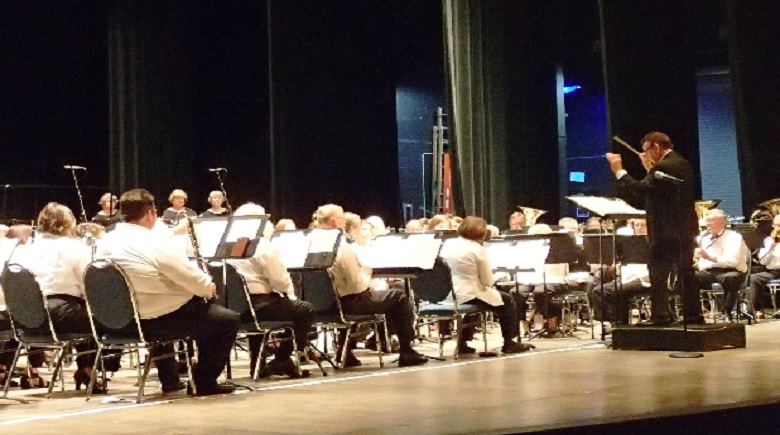 Vic Larsen, music director and conductor, has been with the Lakeland Concert Band for nearly most of its existence, having played within it for 39 years.
Started 40 years ago by a band director from Ohio, the band offers free performances in the style of old town bands from the old days, thus helping to continue on a musical tradition.
What has allowed it to remain successful for the past four decades has been the teamwork of the people within it, as was proven during this Sunday's performance through the cooperation and coordination with the Lakeland Chorus.
"It was a challenge to get two organizations and a balance where you practice with a whole lot, but they did a great job, and the band accompanied them as well," he said.
The Lakeland Concert Band's next performance will be their Christmas Concert at the Youkey Theater at the RP Funding Center in Lakeland on December 9 from 2:30 p.m. to 4 p.m.
This performance will be quite the special treat for children, as select young audience members will have the opportunity to step on stage and conduct the band themselves.
For more information about this and future concerts, visit their website at: http://lakelandconcertband.org