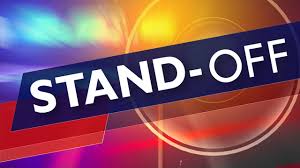 ***UPDATE TO STANDOFF IN LAKELAND (Polk County Sheriff's Office Release)***
Two deputies from the Polk County Sheriff's Office were shot at Thursday evening, November 1, 2018 shortly after 7:00 P.M. What followed was a three and a half hour standoff at the residence which ended when deputies entered the residence and found the suspect deceased from a self-inflicted gunshot wound.
Deputies initially responded to the scene following information from the Pinellas County Sheriff's Office of a possible in-progress domestic disturbance at this location. Deputies were trying to make contact with the possible victims, 44-year-old Jennifer Manning and her 14-year-old son Shawn Manning.
Deputies stood at the doorway of the house talking to a man inside the residence through the door, and he refused to exit the residence.  The man told deputies at one point that he didn't want to go back to jail. Shots were then fired at the deputies, narrowly missing them.  He shot about five times with a shotgun. The deputies took immediate cover, and set up a perimeter around the house.  Deputies said the final shot they heard was muffled, followed by a "thump."
The PCSO SWAT unit then responded to the standoff.
While deputies tried to end the standoff peacefully, they also worked at trying to find Ms. Manning and her son Shawn, by pinging her phone.
At about 10:50 P.M., entry was made into the residence, and the suspect's body was found.
Detectives learned early Friday morning that both Jennifer Manning and Shawn Manning were located elsewhere, safely.
"The shots went on either side of one of the deputies, narrowly missing both deputies. It was only by the Grace of God that these deputies were not hurt. We are very happy that our deputies are safe, and Jennifer and Shawn Manning are also safe." – Grady
Judd, Sheriff.
PCSO was assisted by the State Fire Marshall's Office, Hillsborough County Sheriff's Office, and the Lakeland Police Department.
This is an ongoing investigation, and we expect to have more information available sometime Friday.
Original Release:
The Polk County Sheriff's Office is on the scene of a standoff near Skyview Drive and Goodyear Avenue in Lakeland.
Deputies arrived to the area at about 7:27 p.m. on Thursday, November 1, 2018, to investigate a domestic violence complaint. Upon their arrival, someone began shooting at the deputies.
No deputies were hurt.
The deputies surrounded the house, and have been attempting to end the standoff peacefully.
We will release more information as it becomes available.