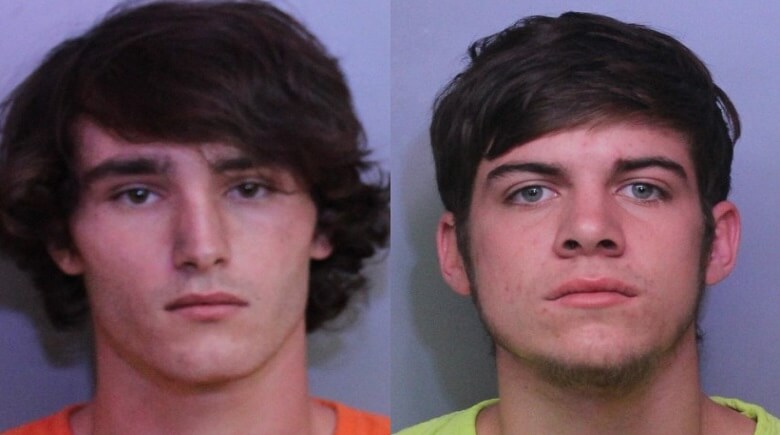 A vehicle burglary in progress witnessed by an alert citizen has landed a 20 yr old behind bars along with a 17 year old – both known to law enforcement.
This morning (10/31/18) at approximately 5:49 a.m., an alert citizen saw two male subjects enter his neighbor's driveway along Lake Mirror Dr. NW appearing to check door handles. A description of the subjects, to include a detailed clothing description, was given to the dispatchers. Officers quickly arrived in the area and began circulating the neighborhood ultimately finding one subject wearing a yellow hoodie, which was described by the caller.
The subject, 20 year-old Charles Groover (DOB 12-22-97, 9969 Dowden Rd, Orlando, FL) was found by officers with both hands inside of a vehicle on Lake Mirror Dr. NW. As officers approached the vehicle, Groover slammed the door and started running, ignoring all commands from officers to stop. A short foot pursuit ensued and Groover was ultimately taken into custody without further incident.
As officers proceeded to approach the victim's vehicle in the driveway, 17 year-old Michael Haislip (DOB 12/4/00, 125 Chaucer Ln, Winter Haven) was found in a fetal position in the front passenger floorboard, attempting to hide from officers. Haislip refused commands to exit the vehicle and was ultimately removed and placed under arrest.
Both Groover and Haislip were taken into custody and booked into the Polk County Jail.
Groover is charged with Vehicle Burglary (F-3), Contributing to the Delinquency of a Minor (M-1) and Resisting Officers W/O Violence (M-1). His criminal history includes multiple drug charges, battery and resisting officers without violence.
Haislip is charged with Vehicle Burglary (F-3) and Resisting an Officer W/O Violence. Haislip has had numerous encounters with local law enforcement.
"The alert citizen who saw these subjects in their neighbors driveway was the catalyst that ultimately helped take them off the street," said Public Safety Director/Chief of Police Charlie Bird. "Our citizens continue to be the eyes and ears for our officers to keep our community safe."