Successful Season for Lake Wales High School Varsity Girls Golf Team
By Allison Williams
Photo provided by Stacey Butcher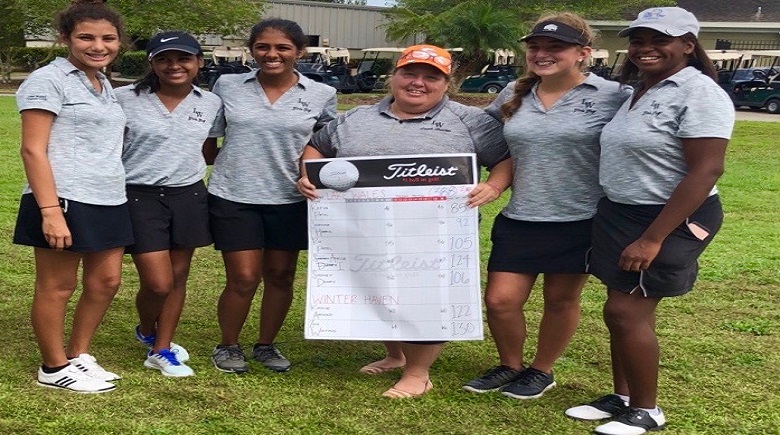 The Lake Wales High School Varsity Girls Golf team is on a roll this year. They went 8-0 for the regular season and won the District Title for the first time in over 12 years. They also placed second at the regionals competition, which earned them a spot in the upcoming State Championships. This is the first time the team has made it to the State Championships.
Stacey Butcher became head coach mid-summer.
To say it has been a great season would be an understatement," Butcher said. "We started the year with our first win over Mulberry and defeated every team after that to go a perfect 8-0 on the regular season."
The team consists of 10 players. The golf team is the second largest girls' teams in the county.
Team members:
Led by Sophomore Reeya Patel, who has played in the #1 spot most of the year
Jasmine Harris – Senior #2
Ria Patel – Sophomore #3
Sydney Deary – Freshman #4
Amelia Ingley – Freshman #5
Sara Deary – Junior #6
Taylor Woods – Freshman #7
Alyssa Balliett – Freshman #8
Crissann Thompson – Junior #9
Erica Revelo – Junior #10
"We have an extremely young squad, so it is exciting to know that we will only get better from here," Butcher said. "To take the regional runner up with mostly underclassmen is a feat in itself, as the winning school had three seniors on it."
Golf is an important part of Butcher's life. She was previously Sports Information Director at Warner University. Being close friends with a golfer on campus, her interest in golfing continued to grow.
"I coach because I want to make sure that every player I come in contact with knows by the end of our season that they have worth and value inside and more importantly outside of the sports world, and that they matter regardless of the score at the end of match play or the scores on their report cards," Butcher said. "I feel coaching is an avenue in which I can have a direct impact on students' lives, for Christ (with God's help).  I coach to build relationships with my players and to foster a sense of community within our team by modeling leadership and servant hood to them as best as I can."
The team is thankful for the Lake Wales Country Club. The club has been their home course for the season.
"They have been one big reason for our success, as having a consistent place to practice and host matches is invaluable for any team," Butcher said.
The State Championships are set for November 1 and 2 at Mission Inn.