WH Lawyer, Assistant City Manager Win 2018 Celebrity Lip Sync Battle
by James Coulter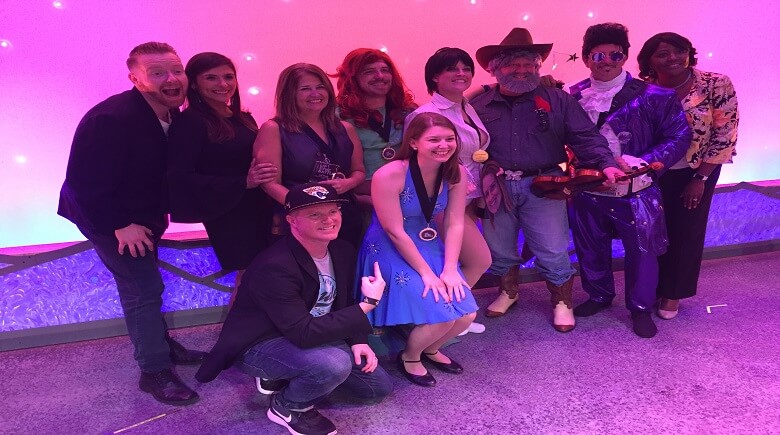 If there's one thing Jillian Spangler, Corporate Attorney for Peterson & Myers, enjoyed most about performing on stage last Friday evening, it was being in front of an audience in nothing but her underwear—though technically, she was dressed in a full-body costume that only made her appear that way.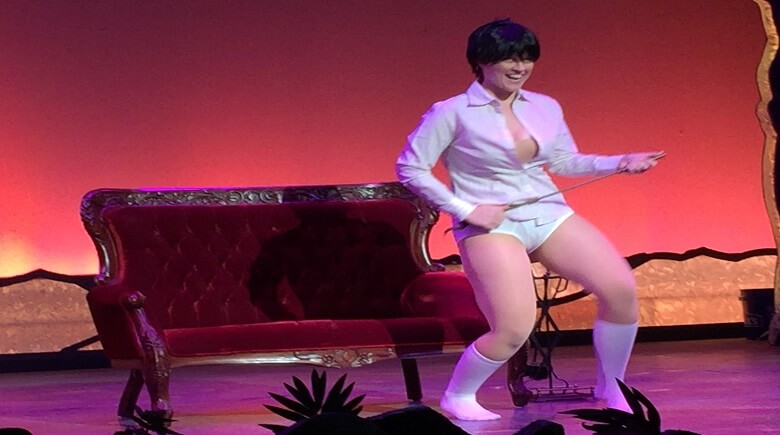 Dressed as Joel Goodsen, Tom Cruise's character from "Risky Business", Spangler re-enacted the famous scene where the high school senior dances and sings along to Bob Seger's "Old Time Rock and Roll" in nothing but his socks, underwear, and button-down shirt.
Spangler's performance that evening was most fitting. Not only is it her father's favorite scene from his favorite movie, but also a scene where the character lip syncs to the music, which made it the perfect choice for a lip sync competition.
Her performance won her first place in the 2018 Celebrity Lip Sync Battle at Theatre Winter Haven on Thursday evening.
Spangler was one of six other local Winter Haven celebrities who competed that evening in the annual lip sync competition, which serves as a fundraiser for the Public Education Partnership (PEP) of Winter Haven and the Cypress Junction Montessori.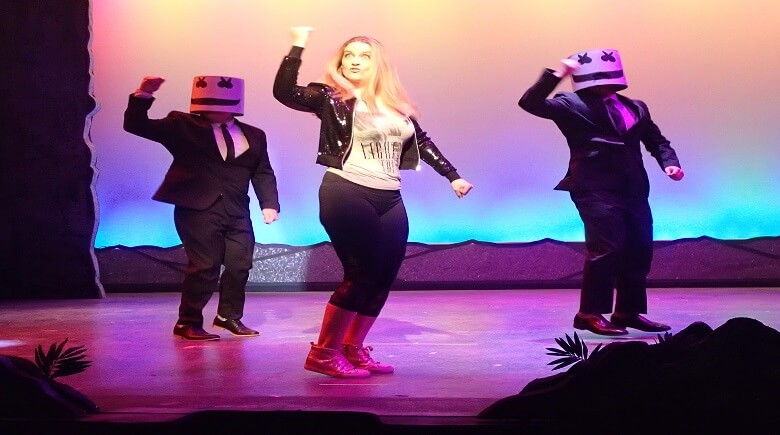 As the attorney for Cypress Junction Montessori, Spangler was more than willing to do anything to help raise funds for the school, even if it meant performing in her underwear—or at least appearing to do so.
Such alacrity rewarded her greatly that evening, as she was selected by the panel of three celebrity judges as their choice for overall best performance.
"I think it is fantastic," Spangler said. "It is a good thing for all the contestants, they got along, they did a great job, and they raised a lot of money."
She was one of six other local celebrities to participate in that evening's musical competition, where they each competed in two rounds to put on a performance by dancing and lip syncing to music.
Their performances were judged in three categories. This included "Judges Choice", which was determined by a panel of three local "celebrity" judges, including Jacqueline Byrd, Polk County School Superintendent; Jessica Solano; 2017 Polk County Teacher of the Year; and Danny Pate, "American Idol" Contestant.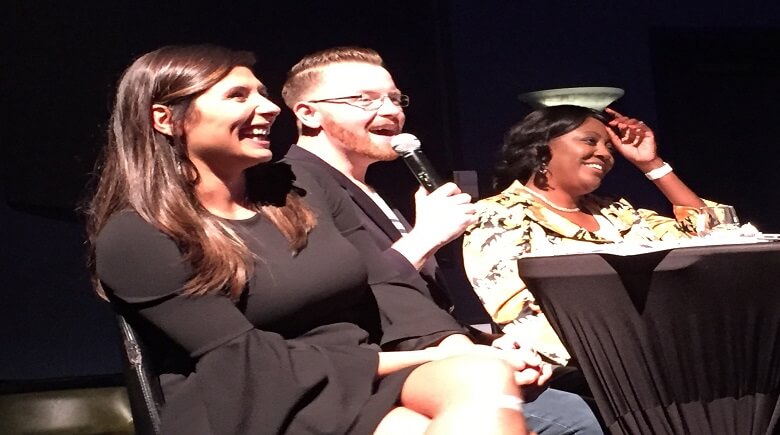 The other two categories were "Audience Favorite", which was determined by popular vote from the audience, and the "People's Choice Award", which was determined by the amount of money donated in each contestant's name.
The winner of both Audience Favorite and People's Choice Award was T. Michael Stavres, Assistant City Manager for the City of Winter Haven.
Starves won the audience's heart, along with their votes and donations, through his performance as Freddie Mercury in "We Will Rock You" during the first round and later as Prince in "Let's Go Crazy."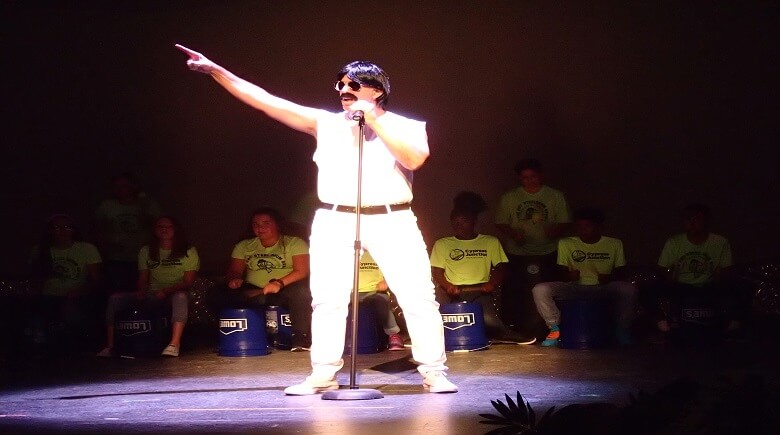 His second performance proved to be his favorite. Not only did it allow him to go out of his element, but also his costume was designed by his mother.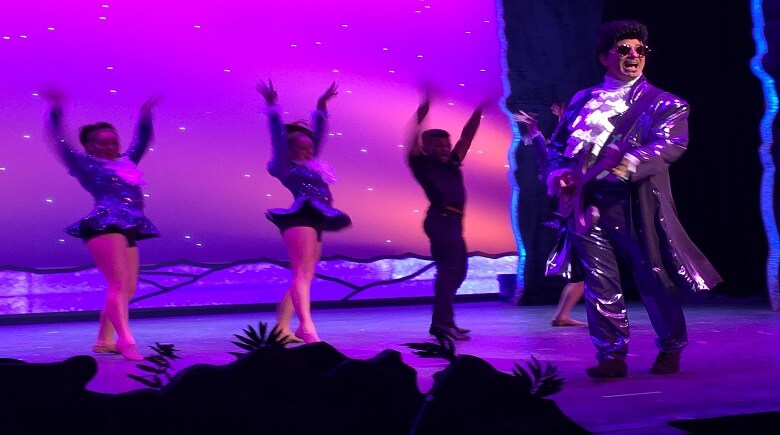 Otherwise, he loved being able to participate within an event that raises money for local education. As a board member for both PEP Winter Haven and Cypress Junction Montessori, that is something that he is passionate about.
"It has been absolutely amazing," he said. "It feels awesome raising money for the public education partnership."
The other four performances that evening were as follows:
Charlie Bird, Director of Public Safety for both the Winter Haven Police and Fire Department, gave two smoking hot performances: "Devil Went Down To Georgia" in the second round, and in the first round, "Great Balls of Fire." His first performance had him burning up the piano dressed as Little Richard, to the point where his piano was smoking and fire fighters had to spray him with fire extinguishers.
Gina Williams, Principal of Winter Haven High School, was joined by her students in two medley performances. The first one was about school; the second, about country life.
Ryan Buckley, Corporate Partnership Account Executive for Lakeland Magic, bravely dressed in drag for both of his performances as Ariel from "The Little Mermaid" and the former queen of soul, Aretha Franklin.
Sara Beth Renyolds, Polk County School Board Member, freely expressed her girl power in two ballads, singing about how it's great to "Feel Like A Woman" and how she likes that "It's Raining Men."
Two other performances during the intermission of both rounds paid tribute to Disney films. The first was a selection from "The Little Mermaid", which is currently being performed by Theatre Winter Haven.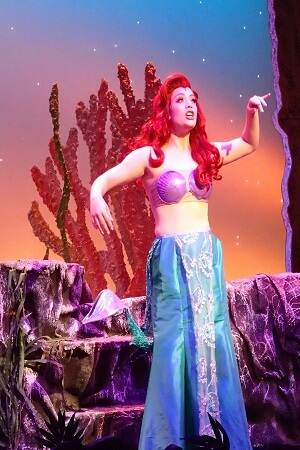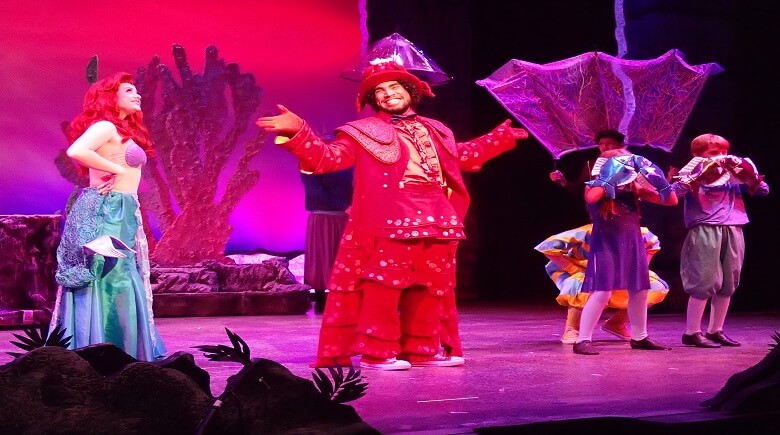 The other was a rendition of "A Whole New World", which was lip-synced by last year's winners, Gary Boyer and Nathan Adams, playing the roles of Aladdin and Princess Jasmine.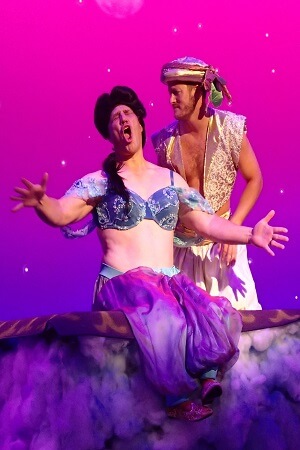 Celebrity Lip Sync Battle is an annual fundraiser hosted by Theatre Winter Haven for both Public Education Partnership (PEP) of Winter Haven and Cypress Junction Montessori.
Last year's event raised between $6,000 and $8,000 for each organization to help facilitate their educational goals, as reported by The Ledger.
Each and every year has experienced a greater turnout, especially within the last two years, and this year managed to be even greater, explained Audrey Nettlow, PEP Winter Haven Board Member.
"It has been more successful this year than it has been the last two years, and we consider the last two years to be extremely successful as well," she said.
Such success has been attributed to word of mouth, as the overall event provides an evening of fun where attendees can watch participants perform their best while raising money for a great cause.
"We have amazing people from WH that give up their time and talents to go out, perform, and also fundraise for us," she said. "It is a super fun night where you will laugh the hardest that you will ever laugh."