Southwest Elementary School Student Dropped off at Wrong Bus Stop
Often times riding the school bus means a time for peers to mingle, sit back and relax. Melanie Rain's son Calvin Hunt was excited to ride the school bus home for the very first time, but he certainly did not get the experience he expected. His afternoon took a turn for the worse when he was dropped off at the wrong bus stop last week.
Melanie's Story
Melanie was awaiting Calvin's arrival home that day when the bus pulled up to the bus stop. However, Calvin was nowhere to be found. He did not get off the bus.
Melanie thought to herself that it was no big deal because children sometimes miss the bus. She started making plans to go pick him up at the school where she thought he probably still was.
After calling the school and being told Calvin did in fact board the school bus, as his teacher was the one who helped him on, she began to panic.
After a call to the office and transportation department, Melanie was under the impression that her son was still on the bus and was told that the driver would finish the route and head back to drop off Calvin. After waiting for a long period of time at the bus stop and still no Calvin, Melanie's phone rang. It was her mother informing her that Calvin had made it home….but how??
Calvin's Story
Calvin was finally on the bus for the very first time and heading where he thought was home. The driver pulled up and instructed Calvin to get off the bus.
Calvin claimed that he told the driver this was not his stop, but the driver insisted it was. Calvin got off the bus and started walking.
The rain was pouring down and Calvin started becoming afraid. He was essentially lost. He headed toward a public place and put his thumb up, as hitchhikers do.
A generous woman stopped to help Calvin. Seeing Calvin afraid, shaking and drenched in rainwater, she offered to give him a ride home.
He was taught never to talk to strangers, but when the woman asked if he knew where he lived, he said he did and she took him right home.
Calvin was safely dropped off at his home, thanks to the woman who saw a scared child and graciously helped him. His house was a whole 1.7 miles away from where he was initially dropped off by the bus driver.
Lessons Learned
After the scare, Melanie feels that changes can be made to help prevent this from happening to other students in the future. She also feels grateful that the Lord was watching over her family that day.
"They need to have attendants on the bus with drivers to help with assisting with the bus stops," Melanie said. She is still in search of the woman who helped her son that day.
"I have not found her," Melanie said. "If I do I want to hug her and tell her 'thank you' and that she is Calvin's guardian angel."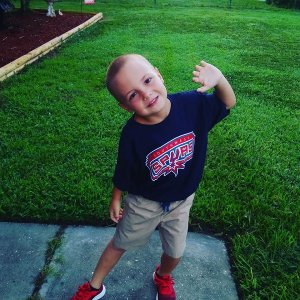 Photo courtesy of Melanie Rain