Chat And Chew Kicks Off New Season For 2018/19
by James Coulter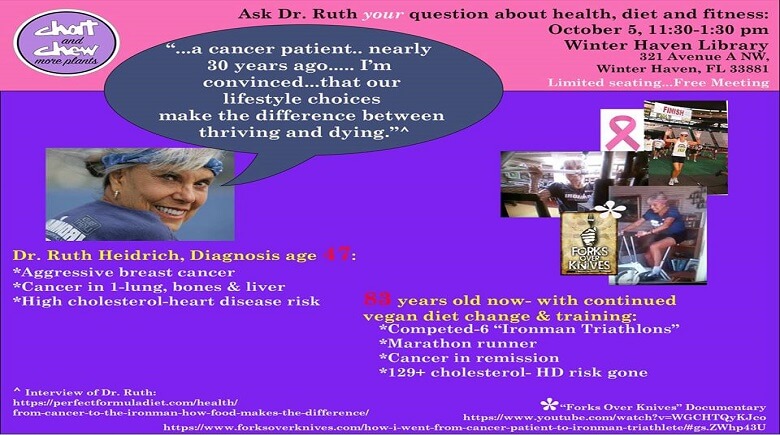 In 1982, Ruth Heidrich was diagnosed with breast cancer. For most other women back then, such a diagnosis would have been a death sentence.
For her, however, not only has she survived and lived to be the golden age of 83 years old, but she has accomplished so much within her active life since then.
To date, she has won five Iron Man competitions, won more than 900 gold medals and trophies in the U.S. Senior Olympics, run 67 marathons all over the world, and has been named one of the ten most fittest women in North America.
The success she has gained within her active and healthy lifestyle she attributes to her plant-based vegan diet, which she started after her breast cancer diagnosis.
She was inspired to take up such a diet upon visiting with Dr. John A. McDougall, the world-famous physician and plant-based lifestyle advocate.
"He explained the program to her, and in two hours she became a vegan," explained Vikki Deedrick, member of Chat and Chew, a local health advocacy group.
Heidrich will be sharing her testimony and advocating for a vegan plant-based lifestyle at Chat and Chew during its first meeting of the new season on Fri., Sept. 29 at 11:30 a.m.
She had been eating and living her plant-based lifestyle for the past 36 years, and she claims it has allowed her to live and remain active for as long as she has.
She has written countless books upon the subject. One thing that she always stresses is that anyone can get started with such a lifestyle during any point in their life, no matter how young or old they are.
"It's never too late to start," Deedrick said. "Doesn't matter how old you are. It is never too late to start. So I think she is inspirational."
Chat and Chew is a health advocacy group in Winter Haven that promotes a plant-based lifestyle by providing access to educational material and resources.
Throughout the year, they host public events to educate the community on healthy eating and living through cooking classes, grocery store tours, and teleconferencing chats with healthcare and nutrition specialists.
The group started in 2011, and their membership has grown significantly since then, not only within the county, but also across the world through social media.
They have since started a satellite group in Lake Ashton, and have extended their outreach to Lakeland in several locations.
Most of this success has been due to heightened interest in healthy living and eating within recent years.
While many older people such as those within Chat and Chew are making health-promoting diet and lifestyle choices a priority, young people are becoming more health conscious than previous generations, according to surveys as reported by the Huffington Post.
"What we are seeing is an increased interest in Polk County in terms of health and diet," explained Cathy Thornhill, leader of Chat and Chew. "They are interested in their own health and not feeling the way they want to feel, and they are remembering what their grandmother or mother may have told them: that you are supposed to eat your vegetables and put more plants on your plate."
With more and more people dedicated to improving their overall health, groups such as Chat and Chew serve as places where like-minded individuals can come together to show their support and share their own success, and they hope to continue doing so in the future.
"It has gotten to it now where people have all these success stories, and they are telling what is happening to them, and continuing to learn more new information or relearn old things we may have forgotten in our childhood with what food we should be eating," she said. "That has been our success."
Here are more upcoming events for this year's season of Chat n Chew:
Polytech Garden Tour (Fri., Nov. 2, 2018, 9am – 1pm): A 2.5 mile tour of the student research gardens at Florida Polytech in Lakeland, followed by a lunch of quinoa and sweet potato salad.
Sharing Spuds at Senior Center (Tue, Nov. 13, 2018, 5 – 6:30pm): Enjoy a potato bar buffet with all the low-fat, low-salt, and low-sugar fixings along with a fruit dessert.
Cooking Class (Tues., Dec. 12, 2018, 10:30am – 1pm): Learn to make plant-based holiday treats and meals at the Publix Apron Cooking School in Lakeland.
Skype with Doug Lisle, PHD (Fri. Jan. 18, 2019, 11:30am – 1:30 pm): Learn about making better decisions for your diet with the author of "The Pleasure Trap" at the Winter Haven Library.
Skype with Dr. Caldwell Esselstyn (Fri., Feb. 22, 2019 11:30am to 1:30pm): Learn how a plant-based diet can help reverse diseases such as heart disease from the author of "Prevent & Reverse Heart Disease" at the Winter Haven Library.
Tasting Tour (Tue., Mar. 5, 2019, 2 – 3pm): Take a tour of the Cypress Gardens Plaza Publix in Winter Haven and taste various plant based treats offered by a local registered dietitian.
Skype with Dr. Dean & Ayesha Sherzai (Fri., Mar. 22, 2019, 11:30am – 1pm): Learn how Alzheimer's can be prevent and treated through a plant based diet from the co-directors of the Alzheimer's Prevention Program at the Winter Haven Library.
Skype with Adam Sud (Fri. Apr. 12, 2019, 11:30am – 1:30pm): Learn how one man lost 100 pounds in 10 months and recovered from type 2 diabetes and other inflictions after changing his diet at the Winter Haven Library.
Skype with Tim Kaufman (Thur. May 2, 2019, 5-6:30pm): Learn how one man lost 200 pounds and controlled his blood sugar and other health problems by switching to a plant-based diet at the Winter Haven Library.