PCSO Release: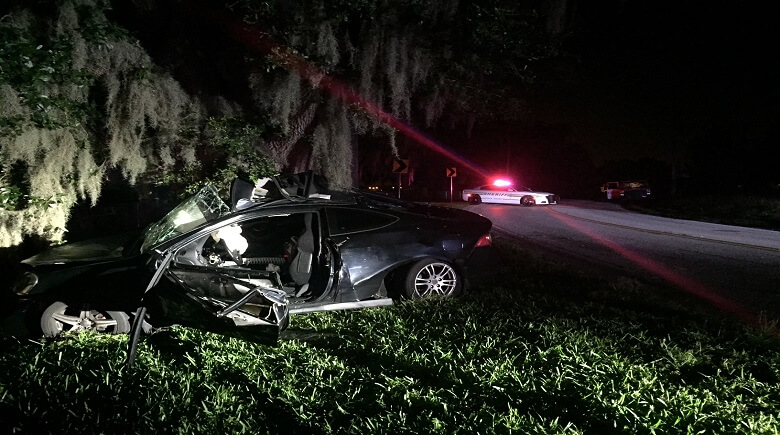 The PCSO Traffic Unit investigated a single-vehicle crash on Eloise Loop Road in Winter Haven last evening.
Preliminary information so far is as follows:
Eloise Loop Road in the area of the crash is a two lane east/west road with a 45 mile per hour speed limit. There are a series of S-curves that are clearly marked with 25 mph curve warning signs. These curves appear to have been a factor in the crash.
Evidence at the scene and witness interviews indicate that around 7:50 pm on Monday, September 3, 2018, a 2003 Black Acura Sedan being driven by 37-year-old Mathew Glen Davis of Bedford Avenue in Winter Haven was westbound on Eloise Loop Road at a high rate of speed. The car was reported to have passed at least one vehicle in the area of Lake Ruby Drive as it sped westbound. The car negotiated a right hand curve at the entrance to the Terranova subdivision, but appears to have begun drifting off the north edge of the roadway as it attempted the next left hand curve just to the west. Davis lost control of the car, which began to slide southwest as it spun counter-clockwise. The car then crossed across the eastbound lane, exited the south shoulder, and impacted a large tree on the passenger side. The impact caused significant intrusion into the vehicle entrapping Davis and causing significant head trauma.
The airbags in the car deployed and it appears as if Davis was wearing a seat belt.
Impairment and distracted driving are unknown at this time, but will be further investigated. Excessive speed was a factor in the crash. The investigation is ongoing with no charges anticipated.
Eloise Loop Rd was closed in both directions for approximately 3 hours during the investigation.
This article sponsored by: