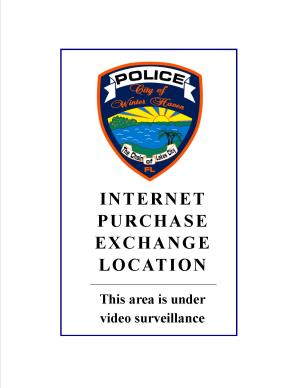 The Winter Haven Police Department wants to remind citizens that if you are interested in making a transaction utilizing the internet, a law enforcement agency is the best location to conduct the transaction.
The Winter Haven Police Department lobby is open Monday – Friday from 8 am – 5 pm.  You don't have to let us know ahead of time that you plan to meet someone. When you arrive, you can enter the lobby or stay in the parking area. Or if it's after the time our lobby is open, the parking lot is a perfect location. Keep in mind – if the buyer and/or seller is hesitant to meet you at a law enforcement location, that should send up red flags.
With all of the internet forums citizens can choose from to either sell or purchase items, everyone should be extremely diligent when conducting the transaction.  A few rules to keep in mind:
1) If it sounds too good to be true, well it probably is.  (That iPhone X being sold for $250 probably isn't legit. Buyer beware!)
2) Never agree to meet a buyer who wants you to go to a location you are not familiar with. (How bad do you really want to sell that item? Is it worth the risk of going someplace you don't know? We venture to say NO!)
3) Always tell a family member or friend when and where you plan to meet someone for the transaction. (Call them as you drive up and be on the phone when you first encounter the other person. Give a brief description along with the vehicle – just in case.)
4) Beware when a person wants to "hold" the item you are selling for closer inspection. (If they do, well you know the risk you run.)
5) Meeting at night is never a good idea. (If someone is unwilling to meet during the day for the transaction, that should send your "spidey sense" into overdrive.)
6) Consider taking someone with you to the transaction. (Two sets of eyes are better than one, right?)
7) Refer to our first bit of advice – only meet at a local law enforcement property. They typically are under video surveillance and there is constant activity. (If you can't agree on that location, reconsider the transaction.)
We want all citizens to be smart and safe when making any transaction with an individual they met on the internet. These are great ways to get a good deal, but safety should be first!